Article
---
By: Sophia Lloyd
Graphene Flagship
Publishing date: 24 March 2017
By: Sophia Lloyd
Graphene Flagship
Publishing date: 24 March 2017
Graphene Connect: from Datacom to IoT
The Graphene Connect meeting, From Datacom to IoT, was held on 2 March 2017 at Mobile World Congress, Barcelona, alongside the Graphene Experience Zone, with sessions on data communications, flexible electronics and sensors.
​The latest workshop in the Graphene Connect series, From Datacom to IoT, was held on 2 March 2017 at GSMA Mobile World Congress, Barcelona, alongside the Graphene Experience Zone. Organised into three sessions on data communications, flexible electronics and sensors, the workshop gave Mobile World Congress attendees the opportunity to explore new technologies for the mobile ecosystem that are being enabled by graphene and related materials
The workshop opened with an introduction from Kari Hjelt, the Graphene Flagship's Head of Innovation, who outlined the Graphene Flagship and its aims of bringing graphene-based technologies to market. This was followed by a talk from Nobel laureate Konstantin Novoselov on the groundbreaking experiments on graphene that led to the Nobel Prize, and how graphene's unique combination of properties is enabling new kinds of electronics.
The talks from Daniel Neumaier (AMO, Germany), Paola Galli (Nokia-Bell Labs, Italy) and Marco Romagnoli (CNIT, Italy) in the Data Communications session demonstrated how graphene's excellent electronic and optical properties will enable next generation communication networks. Increased speed and bandwidth are a key concern at the current rate of growth of data. Neumaier said "The Mobile World Congress was an excellent opportunity to get into contact to many potential customers of the technology developed within the Graphene Flagship. This kind of interaction is extremely important not only for presenting our technology but especially for discussing the specific needs and current bottlenecks in a broad range of application areas."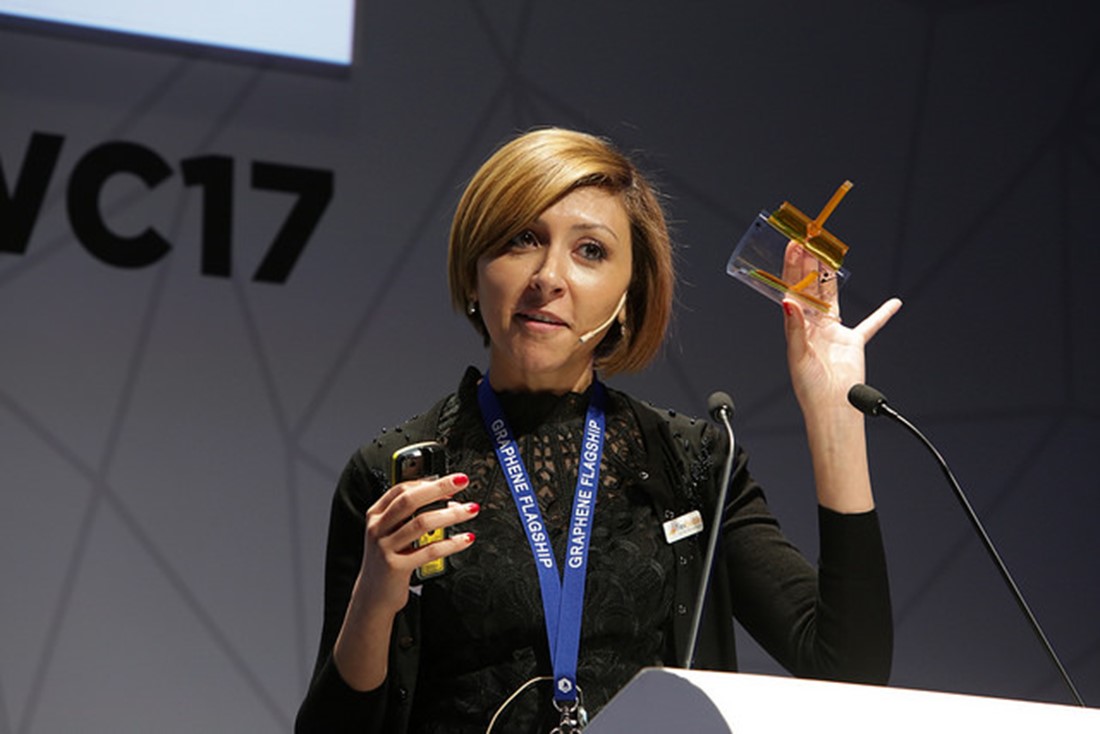 During the Flexible Displays and Wearables session, Henrik Sandberg (VTT, Finland) and Rouzet Agaiby (FlexEnable, UK) discussed how graphene's flexibility and solution processability are making a difference in the drive to produce flexible and wearable electronic devices. For Agaiby, graphene and related materials such as layered semiconductors provide an opportunity to replace silicon components such as transistors with flexible versions. "The Graphene Connect session was a great opportunity to raise awareness of the potential graphene and related materials bring to flexible electronics. Pairing the Graphene Connect session with the Graphene Experience Zone was a true success which was evidenced by the great visitors' interest in the talks and the demonstrators," she said. FlexEnable presented a flexible MoS2 transistor device at the Graphene Experience Zone.
The talks in the final session on IoT and Sensors, from Tapani Ryhänen (Emberion, Finland) and Frank Koppens (ICFO, Spain), focused on how graphene and related materials can be used in connected sensors to provide information about the invisible world around us. Optical and chemical sensing platforms could be used in biosensing applications, food safety and self-driving cars.
The Graphene Connect workshop closed with a panel discussion, chaired by Andrea Ferrari (University of Cambridge, UK), Science and Technology Officer and Chair of the Graphene Flagship Management Panel. The panel comprised Hjelt, Romagnoli, and Ryhänen as well as Inigo Charola (Graphenea, Spain) and Ray Gibbs (Haydale, UK), who discussed how companies are using graphene to drive forward innovation, and their views on the future of disruptive, graphene-enabled technologies.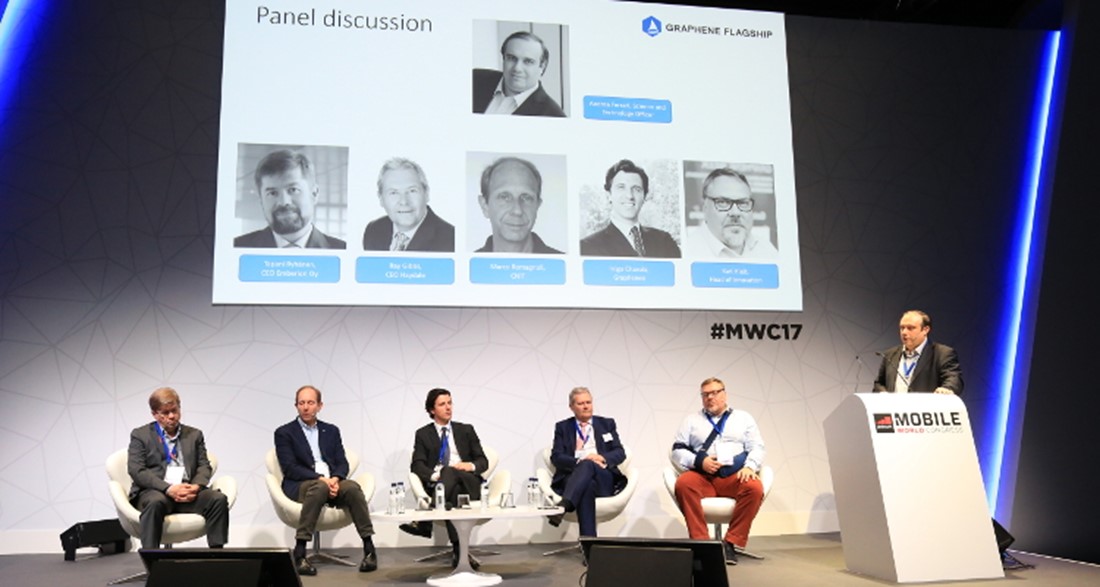 "The Graphene Connect event was very successful in its core task to promote the Flagship consortium and to share the latest advancements. It was great to witness participants with various backgrounds to share keen interest in graphene technologies," said Hjelt. "Remarkably, there was also explicit interest displayed by venture capital companies and private investors for emerging graphene-related innovations."
Ferrari added "This excellent opportunity to combine Graphene Connect with the Mobile World Congress and the Graphene Experience Zone allowed the Graphene Flagship to clearly show how we are steady moving forward on our roadmap to innovation. In particular, the progress and potential of graphene for datacoms and 5G was discussed by Flagship Partner Companies who are world leaders in the field. We showcased a credible value chain, from material production to device fabrication, and system integration, created as a result of the Flagship investment in European companies and leading research centres."