Article
---
By: Graphene Flagship
Graphene Flagship
Publishing date: 24 June 2014
By: Graphene Flagship
Graphene Flagship
Publishing date: 24 June 2014
Graphene Exhibition Opened
Lots of new insights, great opportunities for networking and the inauguration of a completely new graphene exhibition. Just some of the things that materialised on the second day of Graphene Week 2014.

The second day of the Graphene Connect industrial workshop on sensors also got underway. Jani Kivioja from Nokia presented a number of industry perspectives on graphene-based humidity sensors. Professor Herre van der Zant was one of the moderators for the day and he was delighted to note the emerging realisation among industry representatives of the huge potential of graphene.
The participants were able to choose a specific area and take part in what proved to be highly topical discussions covering subjects such as large-scale integration, other 2D materials and a comparison of graphene devices with carbon nanotube sensors.

Tapani Ryhänen from Nokia about graphene

Herre van der Zant, leader of WP7 – Sensors

Steve Savage from FOI – the Defence Research Agency

Jean-Christophe Lonchampt from 2DFab Innovations, Australia

Helena Theander and Farzan Alavian Ghavanini

Graphene applications in life science and healthcare could possibly overshadow electronics applications. Graphene has a series of properties that offer considerable potential for bioapplications. Its large surface area, chemical purity and the possibility of easy functionalisation open up exceptional opportunities for drug delivery. Its unique mechanical properties bring to mind tissue engineering applications and regenerative medicine. Its combination of ultimate thinness, conductivity and strength make it an ideal form of support for imaging biomolecules in transmission electron microscopy. Chemically functionalised graphene could very well lead to rapid, ultrasensitive measurement devices, capable of detecting a whole range of biological molecules, including glucose, cholesterol, haemoglobin and DNA.

Kostas Kostarelos from the University of Manchester talked about the emergent field of graphene in biomedicine. He set out to provide a snapshot of where graphene is at the moment, his conclusion being that there is a variety of graphene materials that need to be taken to a new level in terms of development and that this should take place in close alignment with the applications that will ultimately use the materials.

Kostas Kostarelos and the emergence of graphene in biomedicine

The second day of Graphene Week included a poster session, which was just as popular and crowded as yesterday's session. The third day will also feature a poster session along with a fringe session on where to publish papers and articles on graphene. Editors from leading scientific journals (Nature Materials, Nature Nano, Nature Physics, PRL, 2D Materials) will present the publishing landscape for new results on graphene.

Representatives from Nature talking about graphene and journal publication

Samindranath Mitra from Physical Review Letters

Emil Bjerglund Pedersen at the poster session

Jing Ning and Dong Wang at the poster session
Graphene: A New Age – Exhibition opening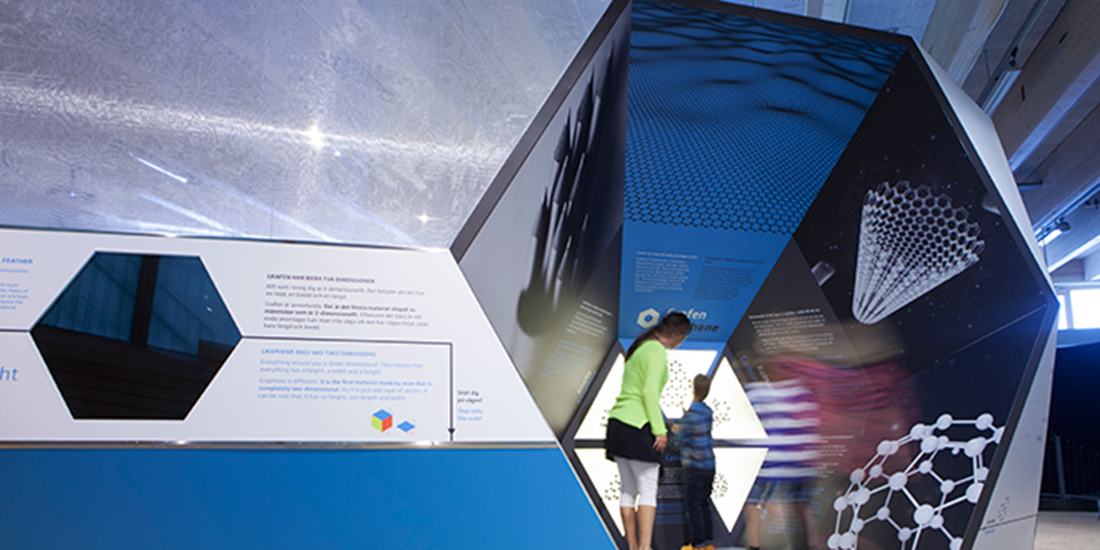 The day ended with the inauguration of a graphene exhibition at Science Centre Universeum. The theme – Graphene: A New Age – aims to give visitors of all ages an insight into how graphene is created and how it can be used. The exhibition presents graphene as a new disruptive technology, so full of potential that it has already been predicted that mankind is about to enter the Graphene Age. It includes experiments, films, illustrations, facts and visualisations as well as a wide range of products made of graphene.

Some of the best visualisations of how graphene could be used came from children in the fourth year at Roseacre Primary School in the United Kingdom together with their teacher Catherine Cremona.

An exhibition about a material set to change the world

A tour around the new graphene expo at Universeum

Kostas Kostarelos at the graphene expo at Universeum