Article
---
By: Graphene Flagship
Graphene Flagship
Publishing date: 15 June 2016
By: Graphene Flagship
Graphene Flagship
Publishing date: 15 June 2016
Graphene Week 2016 in full swing
Graphene Week 2016 Daily Digest - Tuesday 14 June – Day Two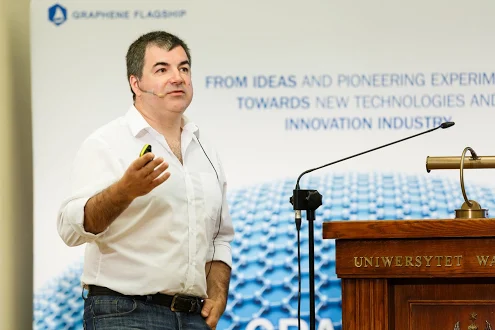 ​​​​​​​​​​​​​​​​​​​​​The second day of Graphene Week 2016 was every bit as exciting as the first. The day started with a plenary session discussing a wide range of different two-dimensional materials. It was a pleasure to see Nobel Laureate Professor Konstantin Novoselov, University of Manchester, UK, talk about his current research into the creation of 2D heterostructures.
"We combined 2D materials in truly unique ways – creating heterostructures with completely new properties, opening up new applications. In our research we show that by selecting materials that work well together we can get self-cleaning heterostructures that push away impurities and make fantastically clear and clean structures," said Professor Novoselov.
The session continued with a talk by Professor Taniguchi Takashi, National Institute of Materials Science, Japan, who focused on the synthesis of high purity boron nitride. Boron nitride is atomically smooth and has no dangling bonds making it an ideal substrate for graphene devices. Dr Felice Torrisi, Cambridge University, UK, then discussed the microfluidic exfoliation of graphene and how changing the density of the corresponding inks opens up the possibility of many different deposition techniques and, ultimately, applications.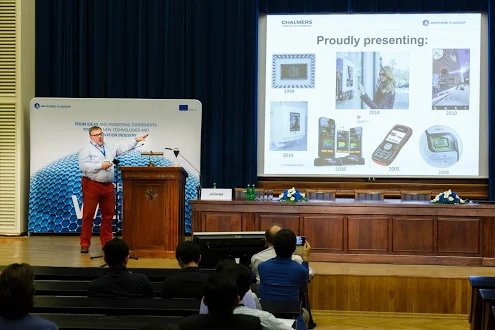 The morning's plenary sessions were brought to a close by Dr Kari Hjelt, Head of Innovation, Graphene Flagship, who talked about how to get from research to innovation; "When starting the innovation journey you will have many different ideas, but you need to select the one that makes the best offer. This means you must say no to many good ideas and choose only those that you can use to convince people to work with you, to fund you. Then you have to prove that your idea is feasible by providing a demo, proof of concept, business plan, and team. All the things that you need to convince people to fund you further," said Dr Hjelt.
Professor Taniguchi Takashi from the National Institute for Materials Science in Japan and Dr Luigi Colombo from Texas Instruments, US, both agreed to give their impressions of the morning plenary session on camera:​
Fringe Session from 2D Materials Journal
A lunch time fringe session from Dr Ceri-Wyn Thomas, Publisher, IOP Publishing, provided an update on the 2D Materials Journal, dedicated to graphene and 2D materials. The well-spoken IOP Publishing representative provided a better understanding of the process of article submission for the company's journals, as well as opening the floor to general questions about publishing, including Open Access. It was impressive to learn of the high impact factor this journal has managed to achieve in such a short time since its conception in 2014.   
Graphene Innovation Forum – Commercialisation
The afternoon of parallel sessions saw many high profile talks. It included the second day of the Graphene Innovation Forum, this time focusing directly on commercialisation. 
This session delivered an array of different perspectives on commercialisation. Talks included those from University of Manchester application-based academics, Professor Ian Kinloch and Professor Konstantin Novoselov as well as presentations from industry start-ups such as the Italian Institute of Technology, IIT Graphene Lab's BeDimensional, small established companies such as Spain's Graphenea, and large enterprises seeking to work with graphene, such as Airbus.
"There are many different routes to commercialisation but it is important to have a synergetic relationship between companies and research organisations so both parties can learn and have a vested interest in product development," said Professor Ian Kinloch, The University of Manchester, UK.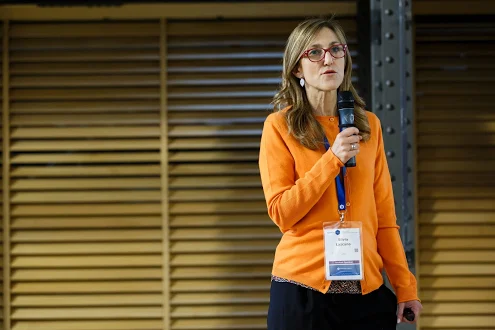 "From the point of view of a large company, graphene supply reproducibility is of optimum importance. Before any graphene-based product will be used in any format in our business, full process reliability needs to be achieved," said Dr Silvia Lazcano, Head of R&T, Airbus Operations S. L.
Commercialisation: The Route to Commercialisation session was designed by the Work Package Innovation team from NGI and CIT (Chalmers Industriteknik) and supported by 2D Materials journal.
A full review of these insightful sessions will be soon published – details to follow. In the meantime, here is some insight from Dr Felice Torrisi from the University of Cambridge, UK, and Dr Kari Hjelt, Head of Innovation at the Graphene Flagship.​
Conference Exhibition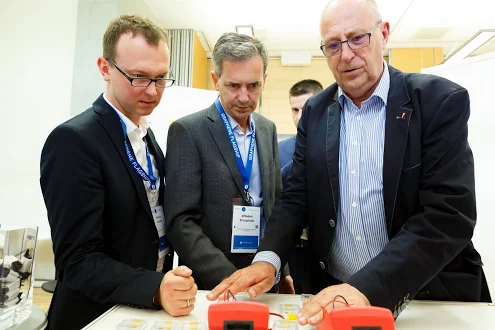 ​Running throughout the Graphene Week is the conference exhibition, a space where exhibitors from industry, academia and everything in-between can really showcase what they have to offer. 
It is a fascinating area to visit – there are many different prototypes to view and interact with and many interesting poster sessions with up-and-coming researchers willing to discuss their findings on camera for us. Here are a few of our favourites:
​​
Gloria Guidetti from University of Bologna - on healthier cities
Tomasz Warga about his poster at Graphene Week 2016​
Anna Lapinska from Warsaw University of Technology presents Graphene-polymer composite 
Jin Shu Li about collective modes of twisted bilayer graphene​
Graphene Week 2016 videos and images
See all Graphene Week 2016 videos on the Youtube channel