Article
---
By: Letizia Diamante
Graphene Flagship
Publishing date: 21 February 2023
By: Letizia Diamante
Graphene Flagship
Publishing date: 21 February 2023
Materials of the future - Graphene and rubber
Some examples of graphene-rubber applied to sports and shoes
We continue the series "Materials of the future" with graphene-enriched rubber. Conventional rubber, whether natural or synthetic, must undergo a chemical cross-linking reaction to harden. Crosslinking individual polymer chains offers better resistance to abrasion, but also to fatigue, oils and solvents. These properties can be further enhanced during manufacture by adding compounding ingredients. Graphene oxide is one of them: it can both crosslink and reinforce rubber. In particular, it can increase rubber's ability to withstand prolonged abrasion. Furthermore, it can also improve rubber's tensile and tear strength, fire retardancy and thermal resistance.  
In this article of the "Materials of the future" series, we show some examples of graphene-rubber applied within the sports sector, which is at the forefront in terms of embracing advanced materials. Making use of advanced materials has the potential to boost athletes' performances and improve casual wear. 
Gold medal at the Tour de France 2022   
Graphene Flagship Associated Member Vittoria Spa applied graphene to its race tyres, obtained improved results in terms of speed and rolling performance (+5%), grip (+8%), puncture resistance (+19%) and durability. Vittoria's second-generation graphene compound (Graphene 2.0)  has been proven by winning numerous Grand Tour races, as well as European, French, German, Austrian, Russian, Brazilian, and Pan-American Cross-Country MTB championships. In 2022 alone, Vittoria's graphene enhanced race tyres were the fastest for bikes of all types, winning races such as Le Tour de France (road), UCI World Gravel Championships, as well as UCI World Mountain Bike Championships in Cross Country, and UCI World Track Championships, showing class leading performance across diverse disciplines as well as terrain.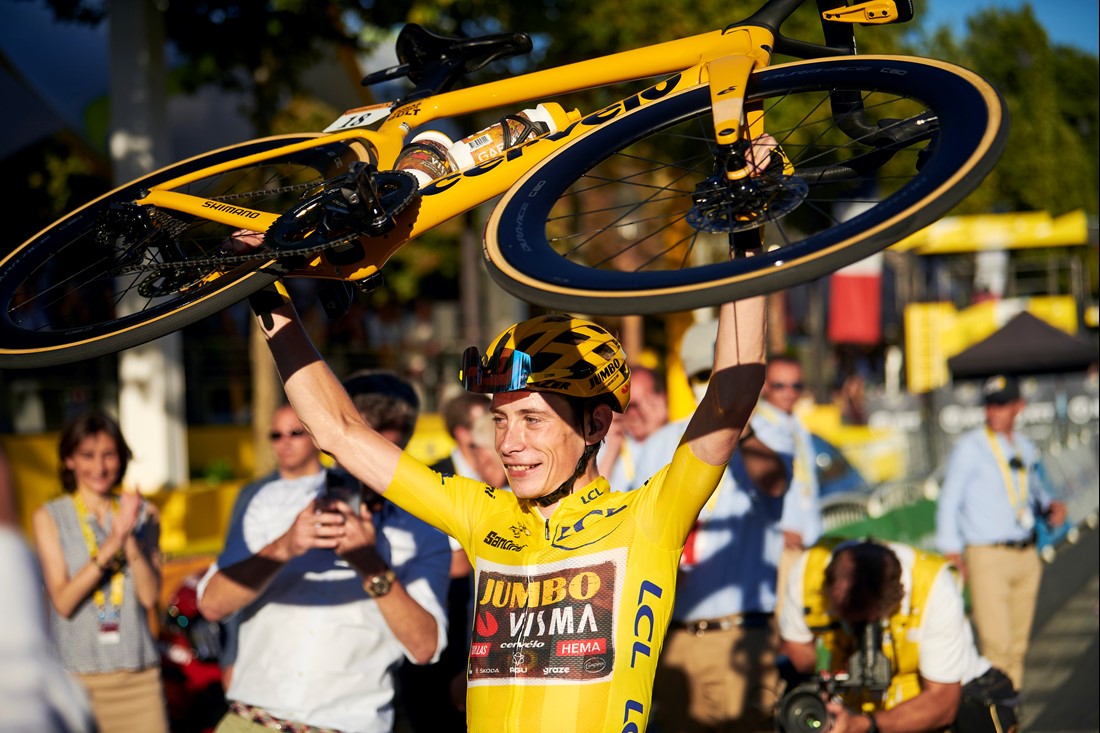 Incorporating graphene in the sole of sport shoes doubles their durability 
Manufacturers of sport shoes have explored the use of graphene in shoes' soles. Most shoes are made with a rubber outsole that grips the ground and a foam midsole that absorbs shocks and helps with bouncing. The Graphene Flagship Partner Versarien and the US brand Flux teamed up to produce Flux shoes with Versarien's Graphene-Wear™ in the outsoles. This technology comprises graphene-enriched rubber and thermoplastic elastomers, which are suitable for developing footwear with reduced wear. They are twice as strong and last 30% longer than the compound without graphene's inclusion. These soles are also more resistant to crack propagation than those without graphene.