Article
---
By: Tom Foley
Graphene Flagship
Publishing date: 13 January 2021
By: Tom Foley
Graphene Flagship
Publishing date: 13 January 2021
Talga's graphene-coated ships sail safer and last longer
Talga's protective graphene coating improves the corrosion resistance of marine coatings, and currently protects two active ocean-faring cargo vessels.
Graphene Flagship Associate Member Talga has developed a functionalised graphene additive, called Talcoat™, that improves the corrosion resistance of marine coatings. The Talphene-enhanced coating is being trialled on two commercial freight ships in active service.
Over time, the structures of marine vessels, like ships and tankers, heavily corrode during service even though they are protected by anticorrosive coatings. There are a multitude of factors responsible for this, and all of them necessitate the development of stronger materials and coatings to improve safety and longevity. For instance, the impact from moving cargo, anchor chains and mooring wires in a container vessel can cause coating damage, exposing the underlying metal to the aggressive marine environment – which accelerates corrosion even further.
There are many more factors, like erosion from rain and stormy seas, that cause coating damage and necessitate spending on repairs or replacement materials. For these reasons, scientists are continually working on solutions, like Talga's graphene additive product for marine coatings, to mitigate corrosion and prolong marine vessels' lifetime.
In fact, every year, billions of euros are spent on technologies to protect against marine corrosion. Today, ship builders prefer to coat their ships with an epoxy primer, applied to the entire structure. These coatings enhance the vessels' durability and longevity, but often contain metals, such as aluminium and zinc, which can cause damage to the ocean's ecology after prolonged exposure. This is a serious environmental concern, and the Graphene Flagship, as well as our partners, are strongly committed to the UN's Sustainable Development Goals to work towards a greener world.
Graphene Flagship Associate Member Talga have developed a new patent-pending graphene additive product, called Talcoat, to enhance the anticorrosion performance of protective coating for marine vessels. The graphene-enhanced coating was applied to two active commercial cargo ships to safeguard the large test areas from corrosion, erosion and more, and these ships are sailing the seas today, transporting cargo under the protection of Talcoat.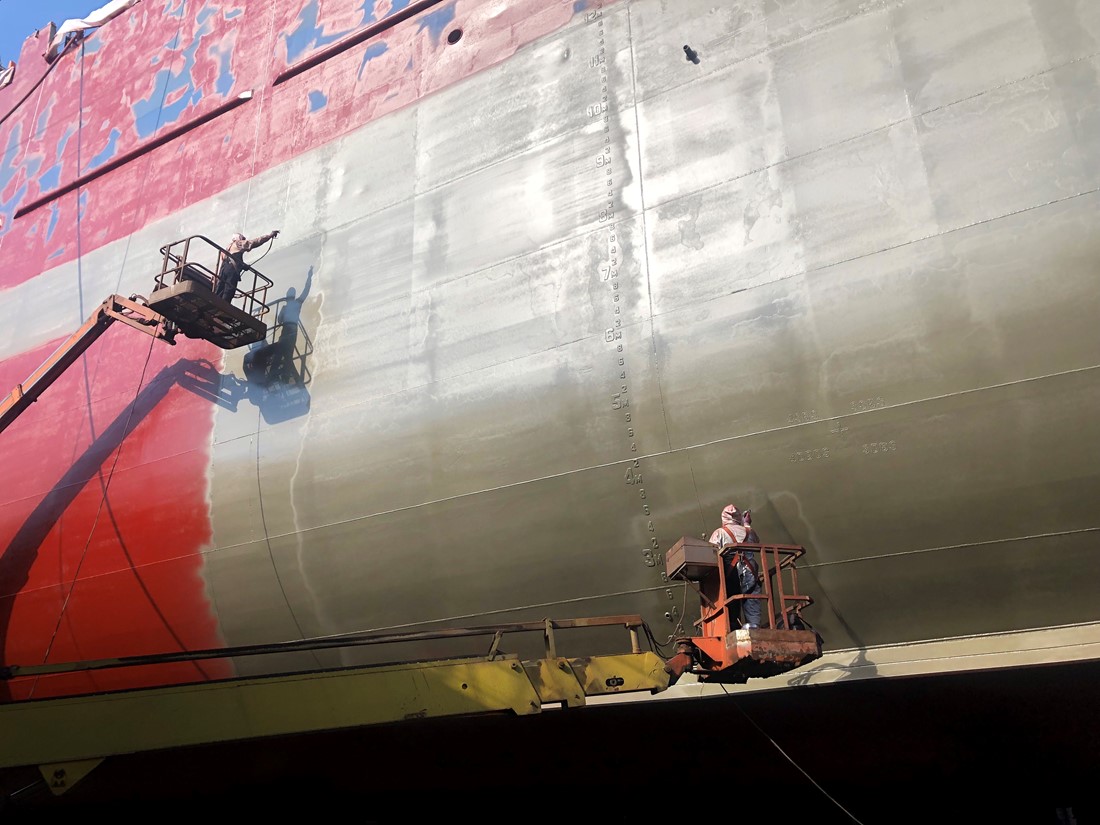 "Talcoat contains Talphene, an additive based on functionalised graphene that takes advantage of graphene's intrinsic properties, like its high chemical resistance, strength and impermeability," explains Dr Karanveer Aneja, Senior Scientist in Product Development at Talga. These make it an attractive contender for a high-performing anticorrosive additive.
A number of key market factors, such as the fluctuating price of zinc and restrictions on the use of chromium, likewise motivated Talga to develop a solution using graphene. Aneja continues: "We are also driven by our desire to move towards a more sustainable world. All these things combined motivated us to invest our expertise and formulate functionalised graphene additives – our Talcoat products – specifically to fight corrosion."
The Talcoat product was subjected to extensive industry-standard tests during development, including the ASTM-prescribed salt fog test. Aneja stated that the addition of Talcoat resulted in a significant improvement in impact, adhesion and corrosion resistance of the coating. In fact, the performance improvement with small additions of Talcoat was notable, even for such a highly optimized industry. "This shows that we were able to successfully translate graphene's exceptional properties into the coating system, which warranted commercial scale trials," says Aneja.
The ships were coated with an epoxy resin mixed with an amine hardener, which is cured via a process called crosslinking to form a hard, protective surface. Talga's graphene-based Talcoat was simply added as a 'ready-to-mix' powder to the epoxy resin, prior to crosslinking and before application. Aneja continues: "This is believed to be the world's largest application of graphene, achieved using existing equipment and methods – a significant step forward towards justifying large-scale commercial interest in graphene."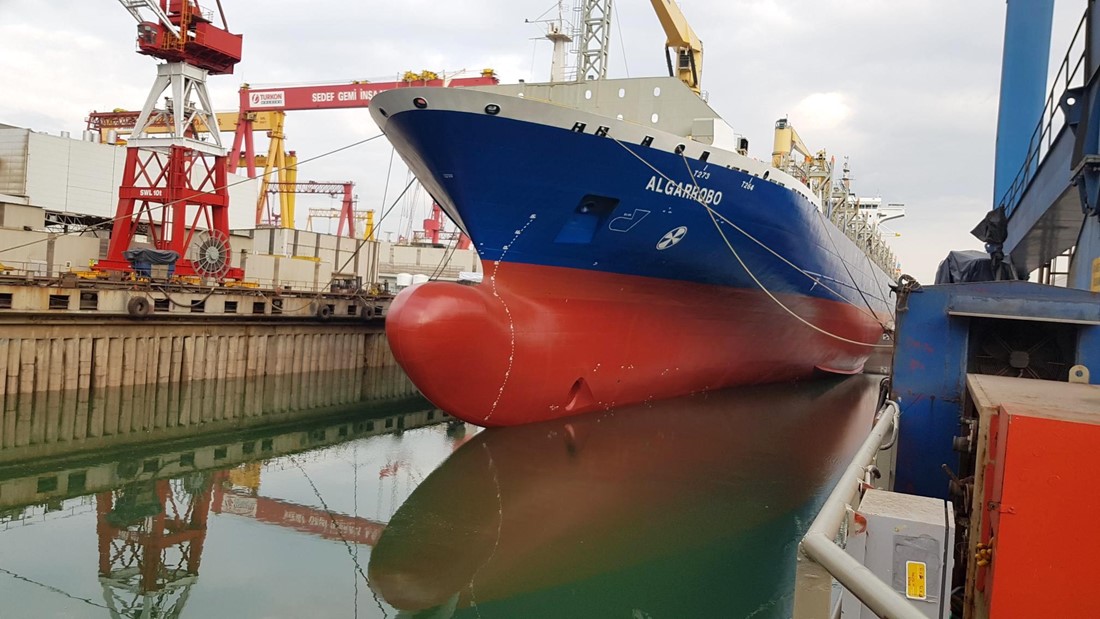 Yuri Svirko, Leader of the Graphene Flagship's Partnering Division, comments: "We are very proud that Talcoat, a novel maritime coating product that was featured in the Graphene Flagship's Annual Report, has made this important step towards the market. I strongly believe that it will be a great achievement for both coating technologies and sustainability."
Kari Hjelt, Head of Innovation at the Graphene Flagship, adds: "Graphene shows tremendous prospects as a coating material for various products. Different anti-corrosion applications exemplify the promise of utilizing graphene on a large scale. Talga's marine coating is a prime example of the opportunities ahead."
Andrea C. Ferrari, Science and Technology Officer of the Graphene Flagship and Chair of its Management Panel, adds: "We are excited to see the first commercial cargo ships protected by graphene technology developed by one of the Graphene Flagship's Associate Member companies. The journey of graphene and layered materials from the lab to commercial applications is progressing steadily, and the investments and research and development efforts are bearing fruit."