Article
---
By: Graphene Flagship
Graphene Flagship
Publishing date: 20 April 2016
By: Graphene Flagship
Graphene Flagship
Publishing date: 20 April 2016
The Graphene Pavilion at The Mobile World Congress
In February 2016 the Graphene Flagship presented the inaugural Graphene Pavilion at the Mobile World Congress (MWC), the world's largest gathering for the mobile industry with over 100,000 attendees and 2000 exhibitors in Barcelona, Spain. This event, coordinated by the Graphene Flagship and ICFO with support from the GSMA, was a huge success.
This unparalleled opportunity to showcase graphene was arranged by Prof. Frank Koppens from ICFO - The Institute of Photonic Sciences, who managed to secure a collaboration with the GSMA (a group that represents the interest of those working in the mobile industry). The Graphene Pavilion embraced five technological and innovative fields within the mobile world: display technologies, wearables, Internet of Things, energy generation and storage, and data communications. Mobile industry professionals, who attend the MWC to witness the launch of new products and applications, as well as scouting out new commercial trends and evaluating market niches for innovative products, were impressed by the Graphene Pavilion. Over four days of non-stop activity, the Graphene Pavilion featured 12 companies and 12 research centres showcasing graphene-based demos and applications to a continuous stream of visitors, press and companies interested in seeing graphene at work in operational prototypes.
Prof. Koppens, Science and Technology curator of the Graphene Pavilion and chair of the Conference Session said "We now have working prototypes which is a huge step. Whether this will 'tip' or not depends on industry joining us for the integration into real products and further pursuing economical ways of mass producing these products. From what we have seen at MWC, industry may now be ready to take this important step".
Graphene was also prominently featured within the MWC conference program with the Nobel Laureate Prof. Konstantin Novoselov from The University of Manchester giving a keynote presentation during the plenary session. Talking to a packed auditorium, he spoke of creating multifunctional heterojunctions by combining graphene and other 2D materials which can be used, for example, as electric logic and memory devices. This message resonated with the audience, many of whom are looking towards to the next level of innovation. The reach of this keynote spanned far beyond the walls of the auditorium - it was streamed in real time by MWC onto every TV screen throughout the conference venue; and watched by many more all around the world via the MWC live streaming website.
Following on from this keynote came the graphene focused session entitled 'Graphene Revolution'. The session began with session chair Prof. Koppens introducing graphene and its potential impact on the mobile sector. He showed a real-life demonstration of a smartphone integrated with a flexible and transparent sensor measuring blood pulsation in real-time. This theme was continued by Dr Mike Banach from FlexEnable who showcased their flexible displays to great effect. Dr Vittorio Pellegrini showcased the flexible batteries he has developed at IIT Graphene Labs in Italy. He helped the audience understand how a little graphene goes a long way - explaining how 3g of graphene covered a whole soccer pitch and that 1kg of graphene is enough to cover every screen in every mobile device in the world. Dr Tapani Ryhänen from Nokia talked about flexible sensors and wearable devices.
Presenting the work of the Graphene Flagship was Prof. Andrea Ferrari from the University of Cambridge, who is the Science and Technology Officer of the Graphene Flagship, outlined the roadmap of the Graphene Flagship with its 10 year mission to bring graphene from the lab into industry. The session was so well received that it ended with a spontaneous Q&A session.
The objective of the Graphene Pavilion was to provide visitors with an immersive experience. Many different live demos and prototypes, all revolving around the latest graphene based innovations, were showcased, including a wearable fitness sensor that collected heart beats from MWC visitors (presented by the ICFO). Also on display were printable touch sensors including the 'Graphene Piano' (an interactive display demonstrating printed graphene that can be played like a piano, presented by the University of Cambridge and developed in collaboration with Novalia); a working graphene supercapacitor (presented by the University of Manchester); flexible displays (presented by FlexEnable); a supercapacitor charger for smartphones (presented by Zap&Go); a fully flexible battery (presented by IIT); a working graphene based NO2 sensor (presented by nVision and PiandBi); flexible graphene based chips (presented by AMO); flexible NFC antennas (presented by the National Research Council – CNR); and even a deep brain sensor presented by the Catalan Institute of Nanoscience and Nanotechnology - ICN2).
The Graphene Pavilion also presented several companies who can either produce graphene or enable graphene production (such as Aixtron, Avanzare, Gnext, and Graphenea). This drew expressions of surprise from visitors as many weren't aware that graphene can be produced at scale at low cost and high quality.
The collaborative approach to the objective of showcasing graphene came to the fore at the Graphene Pavilion. The stream of visitors from the public and press were enthralled at this new way of presenting graphene to the world: instead of telling people about graphene we collectively showed them. By having 12 different areas, also known as pods, each from a different institute and staffed by professionals from academia and industry, visitors could interact with the demos and prototypes and ask questions to those who made them.
"At the Graphene Pavilion people get a complete picture of the applications of graphene, starting from research into innovative futuristic applications, towards working prototype demonstrations and then almost finished products." said Prof. Koppens, "Importantly, there are large-scale production capabilities on display, including a 20 meter roll of graphene and a 300 mm wafer with a graphene layer. Thus, visitors can see what is happening now in terms of current technology and grasp how this will lead to commercialization in the future. The Pavilion shows in a very appealing way what graphene can do, which helps people to believe in graphene and its potential."
Visitors were drawn to the Pavilion for a wide variety of reason, some visitors were already familiar with graphene and wanted to know more, some were interested in a particular technology such as batteries or flexible displays and wanted to know how graphene can be integrated with them. There were also visitors who were simply drawn in to discover something new - like the school teacher looking for new subject to teach his pupils. Many potential collaborations and partnerships were initiated and there were a large number of visitors from the automotive industry who were very interested to hear that graphene could be the solution to some of their existing problems. A camera that can work well in low light was a hot topic for visitors from a number of industries.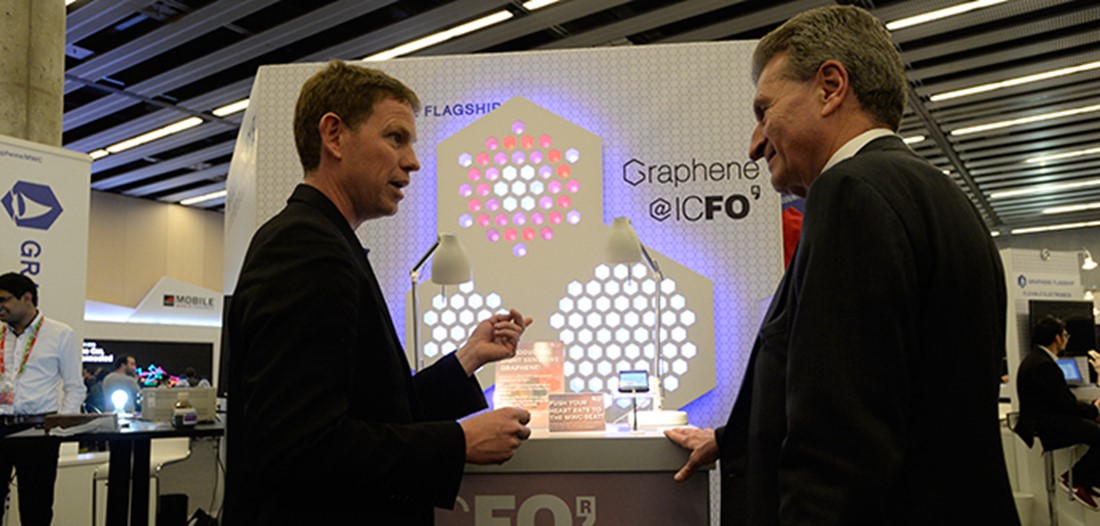 The Graphene Pavilion also had some high profile visitors and Prof. Koppens gave personal tours, which added a unique touch to their experience of the Pavilion. Importantly, there was a visit from Commissioner Oettinger (European Commissioner for Digital Economy and Society) who was clearly interested in the potential of graphene and was eager to learn more about the interactive prototypes. At the end of his tour he commented that he was happy to keep supporting the Graphene Flagship and looked forward to returning to our Graphene Pavilion at the Mobile World Congress next year.
Quite a media stir was created when the CEO of the GSMA, John Hoffman, visited the Graphene Pavilion accompanied by FC Barcelona footballer Gerard Pique. It was a unique and memorable moment to see Prof. Novoselov explaining graphene and its potential to Pique, who also enjoyed playing the 'Graphene Piano' from Novalia and discovering about the 'brain control' display, (illustrating the potential for placing electrodes directly onto the brain), by ICN2 (CNM/CIBER/IDIBAPS).
"It was a great pleasure to see that several high-level managers and CEOs of companies visited the pavilion, and expressed direct interest to further work together." said Prof. Koppens, "One of the striking reactions of a visitor was: 'this is the best thing I have seen at the Mobile World Congress this year'".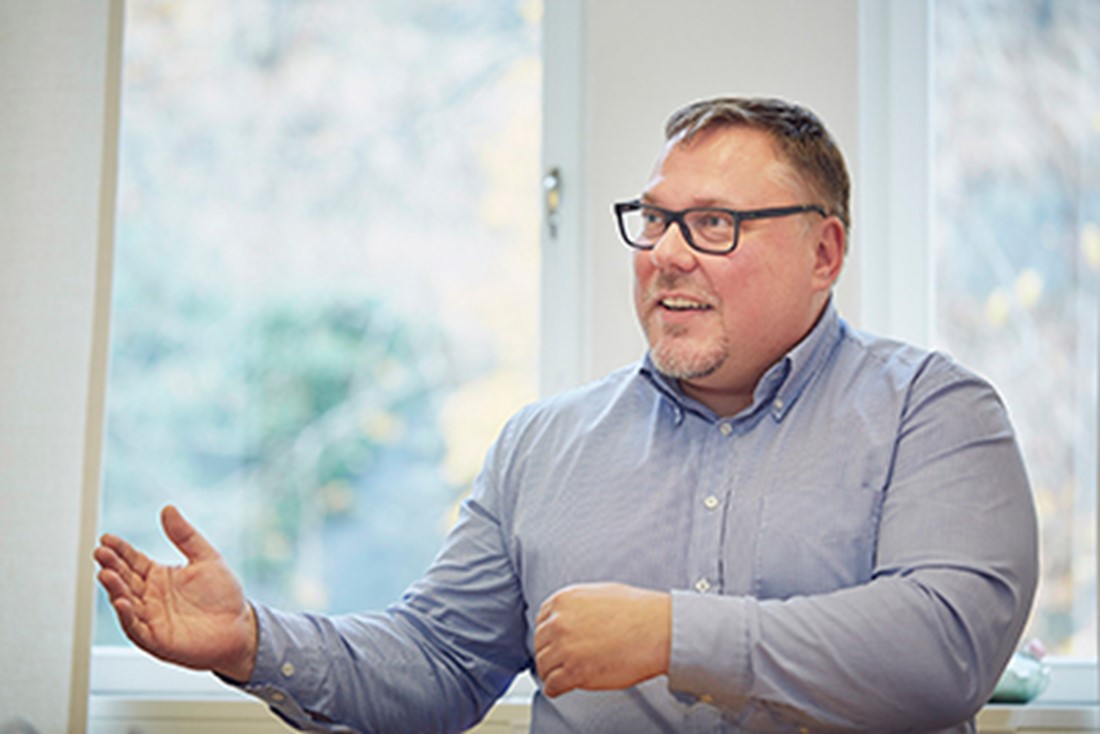 With its many and varied prototypes and demonstrations, the Graphene Pavilion was demonstrably focused on commercialisation. Kari Hjelt, Head of Innovation for the Graphene Flagship, spoke about his visit to the Graphene Pavilion "I have been surprised and pleased by the immense interest in the Graphene Pavilion, especially by companies. It is reaching far beyond the graphene community to bring graphene to the wider world, one of the key aims of the Graphene Flagship".
The Graphene Flagship's participation in the MWC has been an astounding success. Taking full advantage of the opportunity to bring graphene to so many people, our exhibitors have raised awareness, fostered collaboration and demonstrated graphene's potential - the cornerstone objectives of the Graphene Flagship.
Mobile is Everywhere
Building on the success from the MWC2016 the Graphene Flagship and ICFO are pleased to announce that the Graphene Pavilion will be returning next year, to MWC2017 from the 27 February until the 2 March in Barcelona, Spain. With continued, essential support from the GSMA the Graphene Pavilion will once again showcase the best in graphene based technology from throughout Europe and an open call for exhibitors, which will be published in May 2016, will be your opportunity to be part of this unique and exciting event.
About the Graphene Flagship
The Graphene Flagship is the EU's biggest ever research initiative. With a budget of €1 billion, it represents a new form of joint, coordinated research initiative on an unprecedented scale. Through a combined academic-industrial consortium, which currently has over 150 partners in 23 countries, the research effort covers the entire value chain, from materials production to components and system integration, and targets a number of specific goals that exploit the unique properties of graphene.
Coordinated by Chalmers University of Technology, the Graphene Flagship is tasked with bringing together academic and industrial researchers to take graphene from the realm of academic laboratories into European society in the space of 10 years, the Graphene Flagship hopes to facilitate economic growth, new jobs and new opportunities for Europeans as both investors and employees.