Article
---
By: Letizia Diamante
Graphene Flagship
Publishing date: 25 November 2022
By: Letizia Diamante
Graphene Flagship
Publishing date: 25 November 2022
Graphene Flagship's Meganne Christian is a new ESA astronaut
Selected from among 22,500 candidates, industrial chemist Christian can now accomplish her dream
When we talked with Meganne Christian last year, she revealed that: "I always try to find people who are doing great things and try to learn as much as I can from each of them. My favourite example is the Italian astronaut Samantha Cristoforetti… who knows, maybe one day I will work with her!" Her dream has come true!
On 23 November, the European Space Agency (ESA) announced the names of the 17 new 2022 class of ESA astronauts, who were selected from more than 22,500 applicants from across Europe. The new class includes five career astronauts, 11 members of an astronaut reserve (including Christian) and one astronaut with a disability.
Christian is a researcher at Graphene Flagship Partner the National Research Council (CNR), Institute for Microelectronics and Microsystems (IMM), Italy. Since 2014 she has been involved in the Graphene Flagship's Work Packages for Composites and Functional Foams and Coatings.
During this time, she has taken part in two parabolic flight campaigns, in 2017 and 2021, to test graphene coatings in loop heat pipes destined for use as thermal management systems in satellites. These graphene wicks were tested in a collaboration between Graphene Flagship Partners Université Libre de Bruxelles (Belgium), University of Cambridge (UK) and CNR-IMM.
During her sabbatical in Concordia Station in Antarctica, Christian connected via Skype in order to explain her research aims to the Graphene Week 2019 audience. "I would like to set up a laboratory for the use of nanomaterials in extreme environments, such as Antarctica and space. The conditions of Antarctica and space are not too different in some respects, after all," she said during the interview. She later presented a poster on "2D materials for research in extreme environments," during Graphene Week 2022.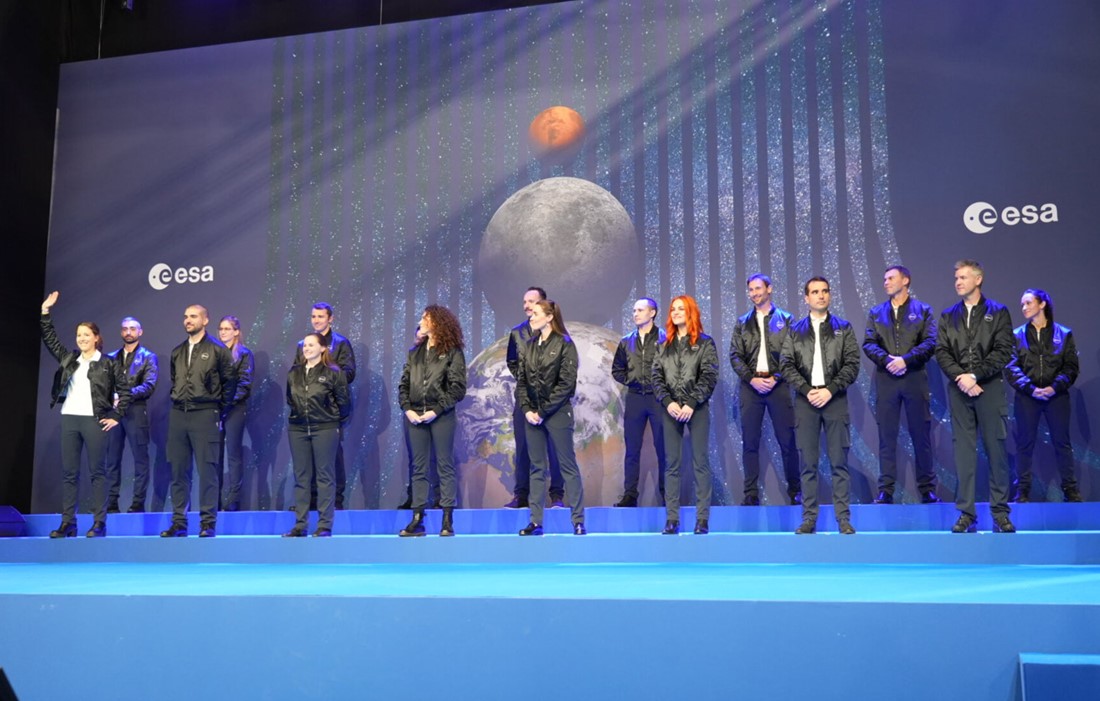 "Meganne is a space enthusiast and I am very happy to have had the opportunity to work with her on the development of loop heat pipes for space applications. I am even happier to have coordinated two parabolic flights that could be considered the 'appetizer' of her brilliant career ahead as an ESA astronaut. I am really proud and happy for her and I know she fully deserves to go to space one day," says Graphene Flagship Space Champion Carlo Iorio from the Université Libre de Bruxelles.
"Meganne has always been a highly motivated scientist. I still remember her first job interview at CNR, that she gave from a car in Australia due to the time difference! We were also together in Toulouse for our first flight in zero gravity, on the "Zero-G" Airbus of ESA; I hope to watch her next flight soon, this time in space. Well done, Meganne!" says Vincenzo Palermo, Director of the Institute for Organic Synthesis and Photoreactivity, CNR (Italy).
"It requires a great deal of hard work and perseverance to become an astronaut. The ESA seeks out not only individuals with strong scientific backgrounds such as Meganne's, but also people who are dedicated, resilient, resourceful, and good team players. To be selected as one of the ESA's new cohort is not only a well-deserved opportunity for Meganne, but also a reflection of her character and of her appetite for growth that she has cultivated over the years, and which the Graphene Flagship has sought to foster. As an entire community, the Graphene Flagship is immensely proud of her achievements and wishes her every success," says Jari Kinaret, Director of the Graphene Flagship.
"People have always been at the core of the Graphene Flagship. Over the years young scientists have developed in world leading professionals thanks to the work done within the Flagship and benefiting from all the support activities we provided. Space is the next frontier for graphene and related materials. The Graphene Flagship has pioneered their application and space qualification, with experiments and plans involving drop towers, parabolic Flights, sounding rockets, lunar rovers and the international space station. Meganne was part of the first ever zero-G campaign organized to test graphene-enabled loop heat pipes in zero G. We are immensely proud to see her selected as ESA astronaut. Her experience in graphene and related materials will place her in an unique position to inform the space community about their potential," says Andrea Ferrari, Graphene Flagship Science and Technology Officer.