Article
---
By: Letizia Diamante
Graphene Flagship
Publishing date: 13 January 2022
By: Letizia Diamante
Graphene Flagship
Publishing date: 13 January 2022
Celebrating more Graphene Week 2021 poster winners
Following up on our successful Graphene Week 2021 – the leading event for the Graphene Flagship community – we dedicate a spotlight article to the winners of the poster sessions.
More than 120 posters were presented between 20 and 24 September 2021 and evaluated by 12 experts.
Here we give the floor to poster winners Ylea Vlamidis and Logotheti Adamantia.
Spotlight: Coatings copper wires with graphene to improve their conductivity and lifetime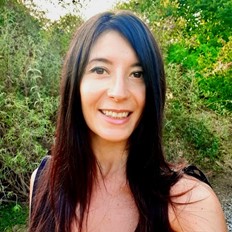 Ylea Vlamidis - Graphene Week 2021 best poster award
Ylea Vlamidis is a postdoctoral researcher at Graphene Flagship partner Istituto Italiano di Tecnologia (Center for Nanotechnology Innovation@NEST, Italy), and works in the "2D Materials Engineering" research line, coordinated by Camilla Coletti.
Why did you decide to work with graphene and layered materials?
Thanks to its electrical and optical properties, graphene is a versatile material that can be potentially exploited in a wide variety of applications. My interest in layered materials started in the framework of a project aimed at exploiting the electrical properties of graphene in composite materials to enhance the sensitivity of electrochemical sensors and biosensors. Afterward, working at IIT, my knowledge and interest in the synthesis, characterisation and practical application of graphene has increased. Recently, besides the field of sensors, I am focusing on graphene's industrial and technological applications.
What was your poster about?
My poster was on the development of graphene coatings for copper wires. We targeted wires with diameters for low voltage applications that are widely used in household and building installations. We demonstrated that by employing safe process conditions, optimised for industrial scalability, we can synthesize high-quality graphene on cylindrical copper conductors by a simple and rapid coating process (chemical vapor deposition). Graphene coatings turned out to be extremely beneficial for the improvement of copper electrical conductivity and the preservation of the enhanced properties over time, by preventing the oxidation and degradation of the metal.
What excites you the most about your research project?
This research is particularly important in the framework of graphene industrial application.  The commercial potential of this technology is high, as the increase in electrical conductivity can enable the reduction of wire diameters, with a consequent savings of tens of millions per year in the European market of low-voltage wires.
What are your plans for the future?
I plan to continue working on the implementation of graphene in relevant applications and technologies. I think that the synergies between research institutes and companies will be fundamental to overcoming new challenges and moving rapidly towards the development of practical applications.
Spotlight: Pulsed laser deposition of graphene and other layered materials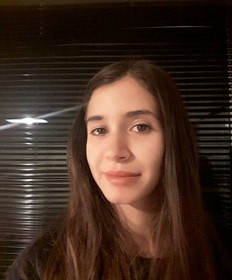 Logotheti Adamantia - Graphene Week 2021 best poster award
Adamantia is currently working as a junior researcher at the National Technical University of Athens in the Laser Printing and Materials Processing (LPMP) group directed by Ioanna Zergioti.
Why did you decide to work with graphene and layered materials?
I was really enchanted by these topics during my studies, and I decided to dive more into that world. I had the chance to work with graphene during my master's thesis, and since then I have been developing devices with graphene and other layered materials.
What was your poster about?
I presented a simple way to use laser pulses to deposit materials, such as graphene, with the desired shape and dimensions to a region that suits us, and without destroying or inducing any defects. This process allows us to fabricate devices with transferred layered materials or inks.
More specifically, the poster presented a flexible sensor device that works as a capacitor and is composed of silver nano-particles ink for the bottom electrode, insulating material in the middle, and graphene as the top electrode.
Why do you find it interesting?
I believe that it is of great interest to explore layered materials, like graphene, and include them in devices. A great challenge of this work is to fabricate our devices only with layered materials. This may trigger their future production at an industrial scale for common use. Also, I believe that research can always unlock paths we never knew. For example, the discovery of graphene opened the door to the research of other layered materials.
What are your plans for the future?
I plan to complete my research concerning layered materials and find suitable applications for most of them.
Note: The picture on the banner was taken before the COVID-19 pandemic.