Article
---
By: Siân Fogden
Graphene Flagship
Publishing date: 08 November 2017
By: Siân Fogden
Graphene Flagship
Publishing date: 08 November 2017
Innovative Biomedical Technologies from The Graphene Flagship at MEDICA 2017
In the image above one of the demonstrators on display at MEDICA, from Graphene Flagship partner Catalan Institute of Nanoscience and Nanotechnology (ICN2), will be a retinal implant which can serve as optical prostheses for people who have lost their sight.
The Graphene Flagship, EU's biggest research initiative into graphene and related materials, will present innovative biomedical technologies at the largest medical trade fair in the world – MEDICA 2017. With more than 130,000 professional visitors and 5,100 exhibitors expected from 13-16 November 2017 in Dusseldorf, Germany, MEDICA promises to be a wide-reaching platform for the Graphene Flagship to showcase its graphene based novel healthcare solutions.
Graphene and related materials are paving the way for novel biomedical diagnoses and treatments thanks to their unique properties such as high surface area, electron mobility and surface functionalization- all favourable for biomedical technologies. For instance, the surface area of graphene makes an excellent platform for drug delivery and the conductivity allows for effective biosensors. The ability of graphene to be made into scaffolds whilst maintaining the inherent conductivity can be used in tissue engineering. New research has shown that graphene can also be incorporated with a polymer to make electromechanical sensors and deep brain implants.
Professor Andrea C. Ferrari, Science and Technology Officer of the Graphene Flagship and Chair of its Management Panel said "Health, Environment and Bio-Medical applications are part of the roadmap for graphene and related materials. We are excited to present innovative devices to medical professionals and companies. This is yet another step towards the full development of novel biomedical solutions enabled by graphene and related materials." 
At MEDICA 2017 the Graphene Flagship will be showcasing four demonstrators of innovative biomedical technologies. The booth allows visitors to not only get an insight into the latest graphene research on biomedical technologies but gives an opportunity for discussion with leading experts from the Graphene Flagship.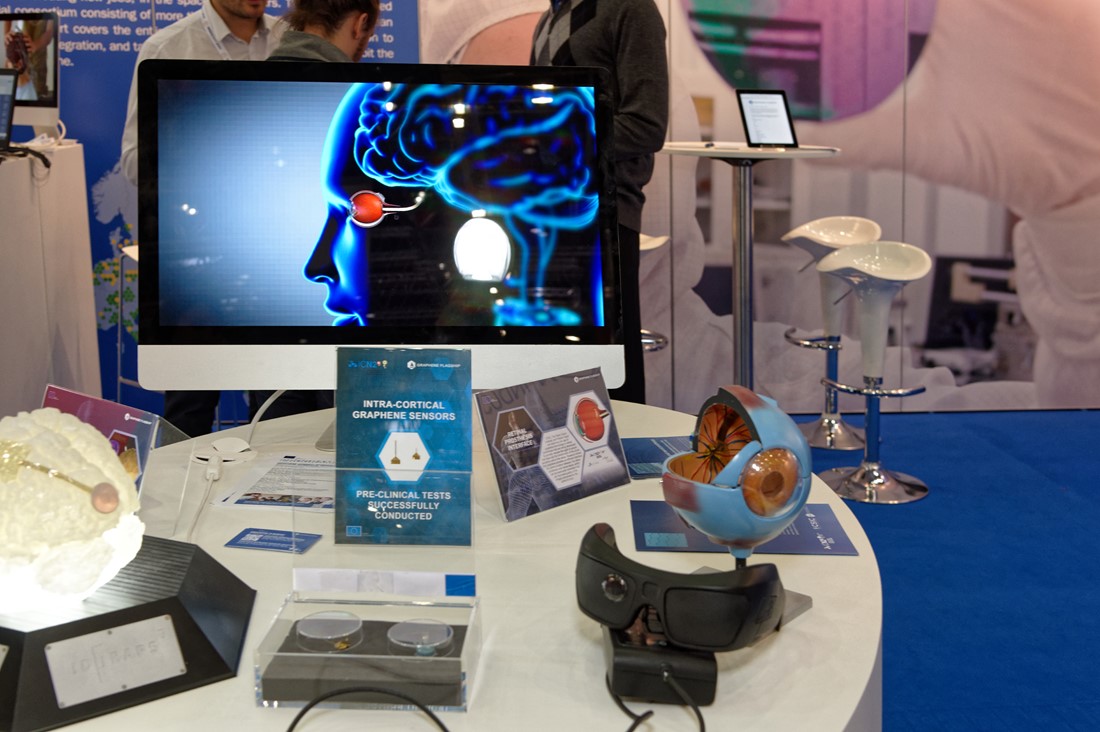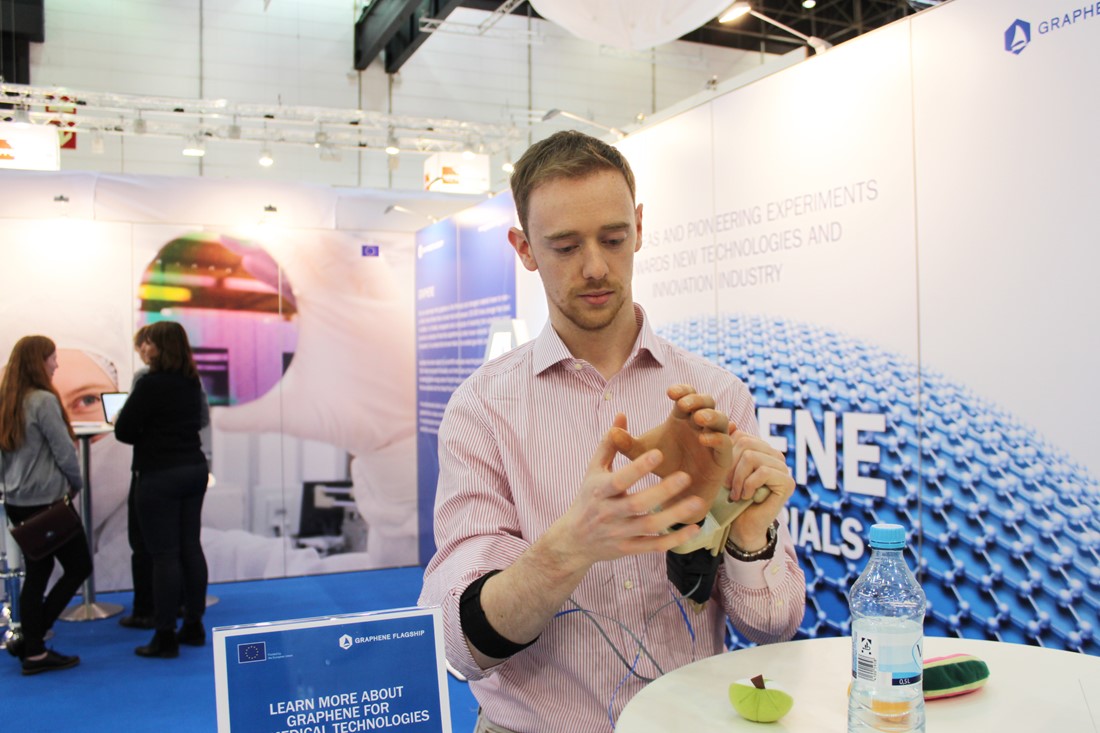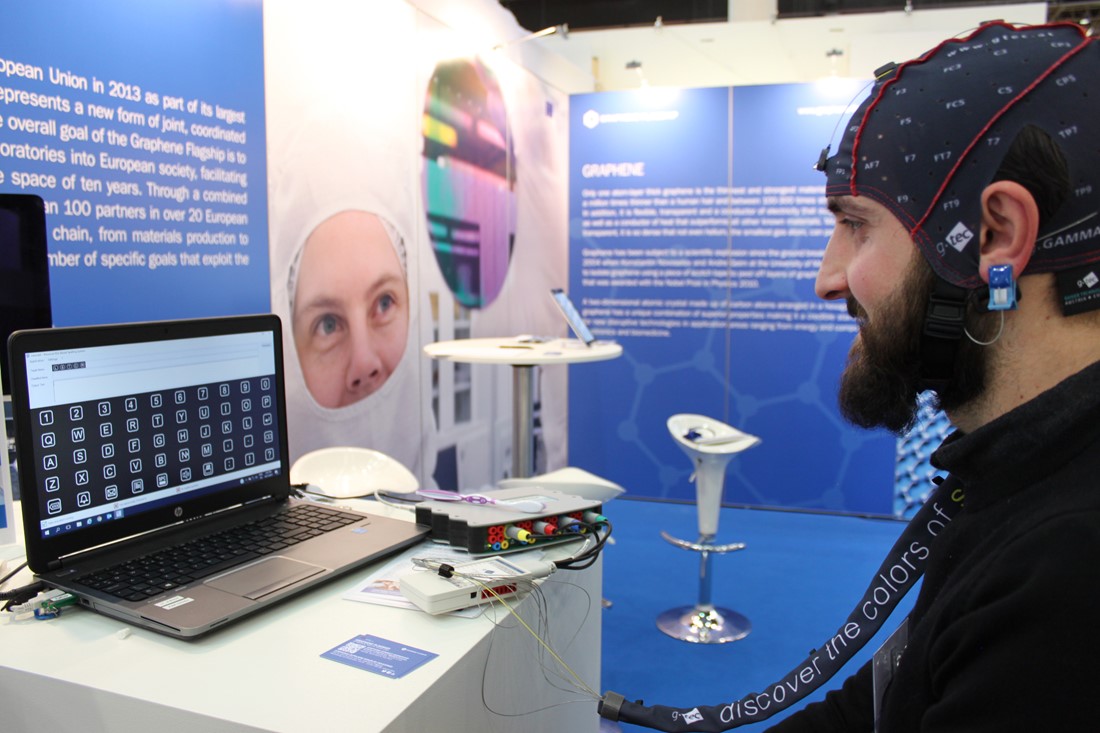 Graphene will be prominently featured within the MEDICA conference program with Jose Antonio Garrido from ICN2 talking during the COMPAMED suppliers forum by DeviceMed. Garrido will discuss the current state of the art when it comes to graphene for neural interfaces and biomedical technologies.
"We are bringing technology, talks and networking opportunities to MEDICA to make an impact and meet end users.  What we want is to bring new functionalities to the field which will come with novel materials." said Jose Antonio Garrido. 
Also at MEDICA the Graphene Flagship will be running one of its Graphene Connects, focused on Biomedical Technologies. This one-day event will bring together key experts from industry and academia with a series of talks and networking opportunities. It will cover topics ranging from opportunities for graphene in biosensors, implants and bioelectronics to wearables, health and neural interfaces.
Dr Kari Hjelt, Head of Innovation for the Graphene Flagship, who will be leading the Graphene Connect, said "Graphene Connect aims to foster innovation projects both within and outside the Graphene Flagship consortium. The collaboration with biotechnology research and industry is needed in order to set the targets for innovations and to direct research efforts towards the most commercially promising applications. Biotechnology is one of the focus areas for the Graphene Flagship and we are excited to see the enthusiasm that the Graphene Connect event at MEDICA 2017 has created."
Extra Information:
Graphene Flagship technology exhibits and exhibiting partners: 
Retinal Prosthesis Interface - Catalan Institute of Nanoscience and Nanotechnology – ICN2 (Spain)
Brain Sensor - Catalan Institute of Nanoscience and Nanotechnology – ICN2 (Spain)
Robotic Hand - Graphene lab and Rehab technologies, Istituto Italiano di Tecnologia – IIT (Italy)
Brain Computer Interface – Guger Technologies - g.tec (Austria)
Graphene Flagship related events at MEDICA trade fair:
The Graphene Flagship Booth (stand 15C43) can be found in Hall 15 which focuses on Electromedical Equipment and Medical Technology 
Wednesday 15 November 2017, 11:30-12:30, Guided tour for press on Graphene Biomedical Technologies at the Graphene Flagship booth (stand 15C43)
Wednesday 15 November 2017, 14:30-15:00, Talk at the COMPAMED Suppliers Forum by DeviceMed on Graphene for Neural Interfaces and Biomedical Technologies by Jose Antonio Garrido/Graphene Flagship (Hall 8b, Stand G40)
Thursday 16 November 2017, 10:15-17:00, Graphene Connect workshop on Graphene Biomedical Technologies. The three topic sessions will cover graphene opportunities in biosensors, implants and bioelectronics. Please pre-register you interest here:  graphene-flagship.eu/MEDICA-Connect
Images
High resolution images can be found in the Graphene Flagship image library at: 
https://www.flickr.com/photos/151519747@N06/albums