Article
---
By: Letizia Diamante
Graphene Flagship
Publishing date: 09 September 2020
By: Letizia Diamante
Graphene Flagship
Publishing date: 09 September 2020
Spotlight: Airbus' Tamara Blanco Valera talks about multifunctional graphene-based materials for sustainable aeroplanes
Tamara Blanco talks about the possibilities of graphene to enhance composites for aeronautics, and shares her career choices and views about the future.
Tamara Blanco Varela works as a Research and Technology Engineer at Graphene Flagship Partner company Airbus, based near Madrid in Spain. Her extensive experience encompasses over 15 years of work on aeronautical composite materials and processes. She leads all Airbus activities related to graphene, and her ultimate goal is to fully exploit the properties of graphene to enhance Airbus's composites and endow them with new functionalities.
Graphene has a wide range of potential applications in the aeronautics industry. Among them, Blanco Varela is currently working on anti-/de-icing systems, as well as enhancing the mechanical properties of materials and decreasing resin moisture absorption. She has been actively involved with the Graphene Flagship since its inception in 2013, and she is currently part of the Graphene Flagship's Work Package for Composites, the Work Package for Production and the Spearhead Project GICE.
We spoke about her background, her career choices and what drives her to succeed, and she was and discuss how graphene-enriched multifunctional materials can contribute to more sustainable aircraft.
What made you choose a career in science, and how did you end up working at Airbus?
When I was just a kid in the 1980s, and people were asking "what do you want to be when you grow up?", I never would've thought that I'd end up working as an engineer for a leading company like Airbus. This was unimaginable for a girl in a little town in north-western Spain, where I grew up.
Just to give you an idea, there are more than ten times as many Airbus employees than people living in my hometown! I decided to break the mold and study engineering, because I liked the sciences more than humanities.
I left my beloved hometown and family to go to Madrid, and then after an internship, my great opportunity arrived: I started to work as a subcontractor for Airbus in the Composite Materials and Processes Department. Soon, I knew I'd made the best choice, and I'm still extremely proud of and passionate about this company and my job.
Can you tell us about what you're working on now?
My project centres around using graphene and layered materials to enhance commercial aircraft – mainly their structural elements. Within this field, we aim to devise new materials with high damage tolerance, strength and stiffness.
Moreover, we want to design multifunctional materials with new features and functionalities, like electrical conductivity to cope with lightning strikes, thermal conductivity for anti-icing, heat exchange and other purposes, and self-sensing materials that can identify potential damage and cracks.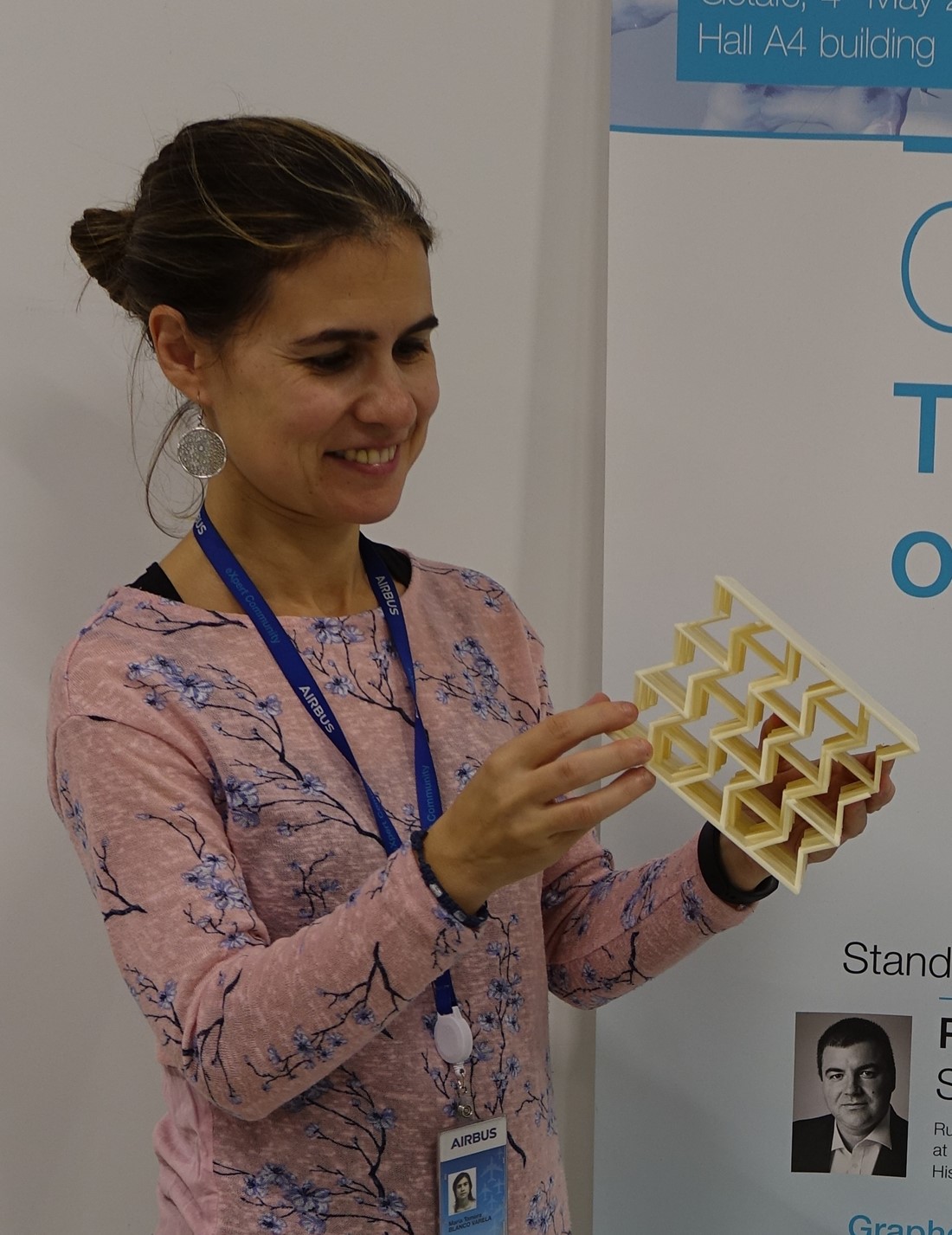 Why does graphene have so much potential for the aerospace industry?
The current composites used for structural elements are made of resins and carbon fibers. The problem is that resins absorb water and moisture in wet conditions. Graphene can contribute to improving the design, weight and barrier properties of these composites, slowing moisture absorption and also acting as fire-retardant.
Graphene has the potential to decrease the energy consumption of several manufacturing processes, including resin curing, adhesive joining, welding, additive manufacturing and 3D printing.
In aircraft, the properties of graphene can be also exploited for anti-/de-icing, electrical conductivity, anti-corrosion and anti-contamination, anti-bacterial, easy-cleaning, anti-static surfaces, electromagnetic interference shielding and so on.
How can these new graphene technologies help us work towards a sustainable future?
By reducing CO2 emissions and moving towards zero emissions aircraft, the aeronautical sector is already tackling many great challenges in the fight against climate change. We aim to halve our carbon footprint from 2005 levels by 2050, and the advanced, multifunctional and sustainable composites created by Airbus are key players in the move towards aircrafts, which consume less fuel. Graphene is one of the most promising materials to contribute to these future composites.
What are the biggest milestones in your career so far?
I participated in failure analysis, qualifying composites for the Airbus A380 and A350 aeroplanes. I was also involved in the development of new, enhanced thermoset resins and thermoplastic materials, with a recent focus on cost reduction.
I have always been very active in communication and dissemination by participating in plenty of conferences, publications, patents and technology-watch activities. I have built a wide network of people working at research centers, material suppliers, universities, and other divisions of Airbus. I can say that I'm known within my field!
At the end of 2019, I was proud to be selected by Airbus as an expert in multifunctional materials.
What are your views for the future?
I think we are starting a new era where multifunctional materials are key actors to cope with great technical challenges. I would like to be part of this endeavour, by leading and aligning all stakeholders to include these materials in the aircraft as soon as possible.
Do you have a role model or someone who inspires you to achieve?
My role model is the CTO of Airbus, Grazia Vittadini. She is the first female on the Airbus Executive Committee and Chief Technology Officer in the aeronautical industry, whose engineering workforce is made up of just 17 percent women worldwide. Furthermore, she served as the Director of the Airbus Foundation Board and is a member of the Inclusion and Diversity Steering Committee. 
I really respect her professional philosophy and open mindset. She is very inspirational for me.
To quote Vittadini: "The only limits are the ones we impose ourselves."
Why do you feel that diversity in science and technology is important for the Graphene Flagship's progress?
Diversity is key in science and technology since it inspires innovation. I fully support diverse and inclusive work scientific or industrial environments, which attract the best talents, no matter their nationality, colour, gender, sexual orientation. Promoting diversity is essential for innovation, technology and success. It should be in the DNA of any company and research project.