Article
---
By: Sophia Lloyd
Graphene Flagship
Publishing date: 20 October 2016
By: Sophia Lloyd
Graphene Flagship
Publishing date: 20 October 2016
Transatlantic Collaborations Catalysed at EU–US Workshop
The EU-US workshop involved more that 120 people from across Europe and the US, working in all aspects of materials synthesis, devices and more.
Graphene Flagship and the National Science Foundation (NSF) hosted the second EU–US workshop on 2d Materials, Heterostructures and Devices, held at the National Graphene Institute (NGI), Manchester. On 10–12 October 2016, more than 120 researchers from across the US, the Graphene Flagship, and FLAG-ERA came together for in-depth discussions of new results, current challenges and future research directions. Vladimir Falko, leader of the Enabling Science and Materials Division and the Enabling Research Work Package, coordinated the workshop as the European co-chair. He said "The scientific programme covered a broad range of materials and it was nice to see how some of these materials are finding their way into applications. Equally impressive were the news about the progress in the development of growth methods for layered materials"
The study of graphene and related materials for different applications is a wide-ranging field, with many people working worldwide to develop new technologies that will benefit society, such as in high performance electronics and fast sensors. The Graphene Flagship encourages close cooperation among researchers in Europe; now it is hoped that similar collaborations can be founded with researchers in the US to mutual benefit and to increase the pace of technological development.
The recent workshop followed on from the one held in Arlington, VA, USA in April 2015, co-organised by the National Science Foundation (NSF) and the Graphene Flagship. James Hwang, (Lehigh University, PA, USA), organiser of the 2015 workshop and co-chair of the 2016 meeting, said "The number one aim for these meetings is to foster transatlantic collaboration. This has to start from the bottom on an individual level, so these meetings bring people together to foster one-to-one collaboration. Personally, at these meetings I have got to know many more key players in the Flagship, and gained a deeper insight into how people collaborate within the programme."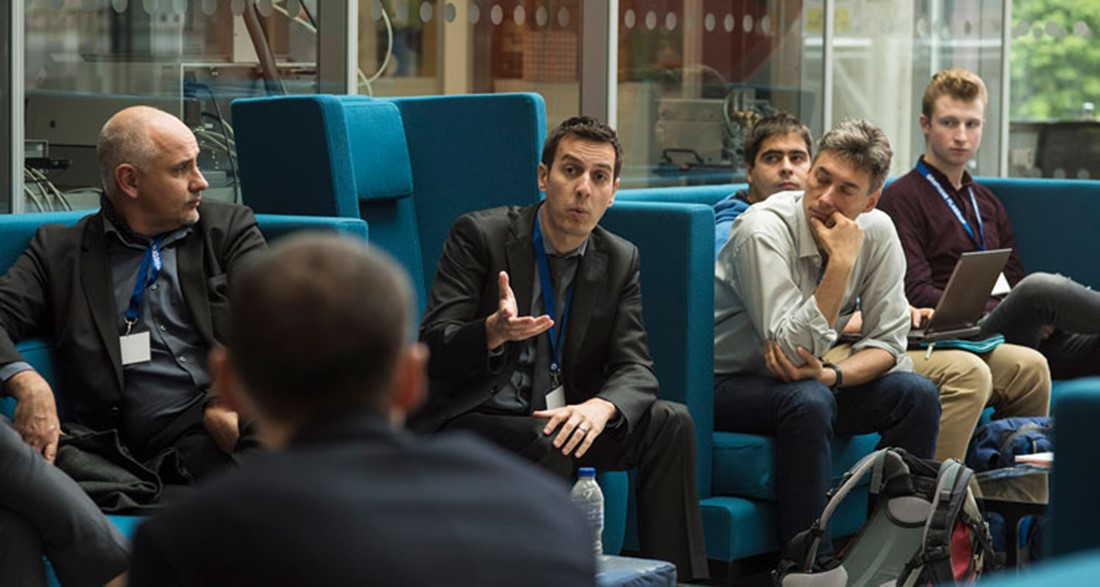 First Mobility Grant awarded
As a direct result of the first workshop, both the NSF and the Graphene Flagship have set aside funding specifically to enable researchers to collaborate internationally. In the Graphene Flagship, this takes the form of the Mobility Grants, which enable early-career researchers to spend time working abroad. The NSF has launched a scheme enabling recipients of NSF grants to apply for supplemental funding specifically for collaborative work, in order to reduce the barriers to working internationally. "The NSF funding supplements and Mobility Grants are very concrete outcomes in a short time," added Hwang. The first Mobility Grant for research to be carried out in the US has been awarded to PhD Luca Banszerus, (RWTH Aachen, Germany).
Next year, Banszeras will work with Philip Kim at Harvard University, MA, US on production of high quality, large area graphene. Banszeras' supervisor, Christophe Stampfer (RWTH Aachen University, Germany), is looking forward to this opportunity for collaboration: "Kim has tremendous knowledge of 2D materials and 2D structures, and I think Luca will benefit on a personal level. It's very important that young, motivated people get given the opportunity to work in other labs."
Discussions on how to make the best of international expertise and experience through collaborations were an important part of the workshop. A big question was the idea of how to best focus available resources for successful collaborations. With so many different layered materials, and many potential applications, this is a real challenge. Stampfer added "Meetings like this really sharpen the minds towards specific needs and help in putting down roadmaps. It's always a difficult decision, but focusing is so important."
Arranging international collaborations on a large scale is difficult, particularly due to funding and intellectual property considerations. Outcomes such as NSF supplements and the Graphene Flagship Mobility Grants are an excellent start and are already making a difference, particularly to students and early-career researchers who gain excellent experience through international work. Falko is enthusiastic about the research opportunities opened up by last week's meeting: "This meeting was worth the effort it took to bring colleagues form the two sides of the Atlantic. The discussions of both science and possible mechanisms of a closer EU–US collaboration did not finish until late hours, and I hope that these have already generated a couple of joint projects between some European Graphene Flagship and NSF teams."