Article
---
By: Letizia Diamante
Graphene Flagship
Publishing date: 25 March 2021
By: Letizia Diamante
Graphene Flagship
Publishing date: 25 March 2021
Spotlight: Graphene for space, batteries and water splitting with Meganne Christian
From satellite heat pipes to advanced technologies for Antarctic research, Meganne Christian works on projects and ideas to bring graphene to extreme environments.
How can we use graphene for satellite applications? Will this innovative material transform the way we generate and store energy? And could it even help research in Antarctica? We ask big questions like these – and more – to Meganne Christian, researcher at Graphene Flagship partner the National Research Council (CNR), Institute for Microelectronics and Microsystems (IMM), Italy. She been involved in the Graphene Flagship since 2014, and is a member of the Composites and Functional Foams and Coatings Work Packages.
Why graphene?
It was kind of a coincidence at the beginning. After my PhD, I was looking for new opportunities to match my background in nanomaterial synthesis and characterisation. Then, the more I read about graphene, its properties and its potential, the more excited I got about it.
My work is mainly on CVD graphene, and I am particularly interested in using it to make 3D structures. I make graphene foams that can be shaped into materials with a high surface area. This is particularly beneficial for energy storage applications and also for satellite loop heat pipes.
What are loop heat pipes? Which benefits can graphene bring to satellites?
Satellites orbiting around the Earth experience extreme temperature differences between the side facing the sun and the side facing away. Special solutions are needed to disperse heat and cool satellites' electronics. Loop heat pipes are long-lasting, zero-maintenance heat exchangers without pumps or moving parts, meaning they fulfill the essential requirements for space applications.
They work via the repetitive condensation and evaporation of a fluid – ethanol or methanol in our tests, ammonia in commercial processes and helium in outer space – flowing as a vapor or a liquid, between the hot components and the colder areas of the satellite that are more exposed to the vacuum of space. Capillary action moves the condensed liquid back to the evaporator via a porous 'wick.' We are working with Graphene Flagship Partners Université Libre de Bruxelles, Belgium, University of Cambridge, UK, and Leonardo, Italy, to improve the efficiency of these devices using graphene. By enhancing the porous wicks with graphene-based foams, we can increase the interaction surface, so that heat can be transferred faster and more evenly to the fluid.
What about your projects in energy storage applications?
I am using graphene foams decorated with oxide particles for battery and supercapacitor electrodes.  I am also just starting to work on photocatalytic water splitting, hoping to use transparent 3D structures of graphene as supports for materials that have already proven to be effective catalysts, enhancing their conductivity and active surface area to improve the overall performance.
Batteries and water-splitting technologies have the potential to revolutionise the way we store and use energy. We have no choice at the moment: we have to move away from fossil fuels and move towards batteries and hydrogen energy. Probably both of them. I think this is fundamental for our future.
What are the biggest milestones in your career – or your proudest moments?
I obtained some really interesting results in hydrogen storage during my PhD in industrial chemistry at the University of New South Wales Sydney in Australia, which allowed me to go to conferences and win some prizes, like the National Postgraduate Student Energy Award from the Australian Institute of Energy, helping me to jump-start my career.
I cannot deny that another exciting highlight of my career was the four-hour parabolic flight, run by the European Space Agency (ESA) and Novespace, France, in collaboration with the Graphene Flagship. During the flight, we tested loop heat pipe prototypes in microgravity. The parabolic flight did 31 loops in the air, reaching free-fall for 22 seconds at the apex of each parabola, for a total of about 10 minutes of zero-gravity. It was definitely an amazing experience!
Taking two sabbaticals at Concordia Base in Antarctica with the Italian National Antarctic Research Program (PNRA) was also very rewarding. I challenged myself by dealing with a new research topic about atmospheric physics and meteorology. I had no previous background in that field, but my skills in setting up experiments and managing scientific instruments could be applied to the observatories I was looking after.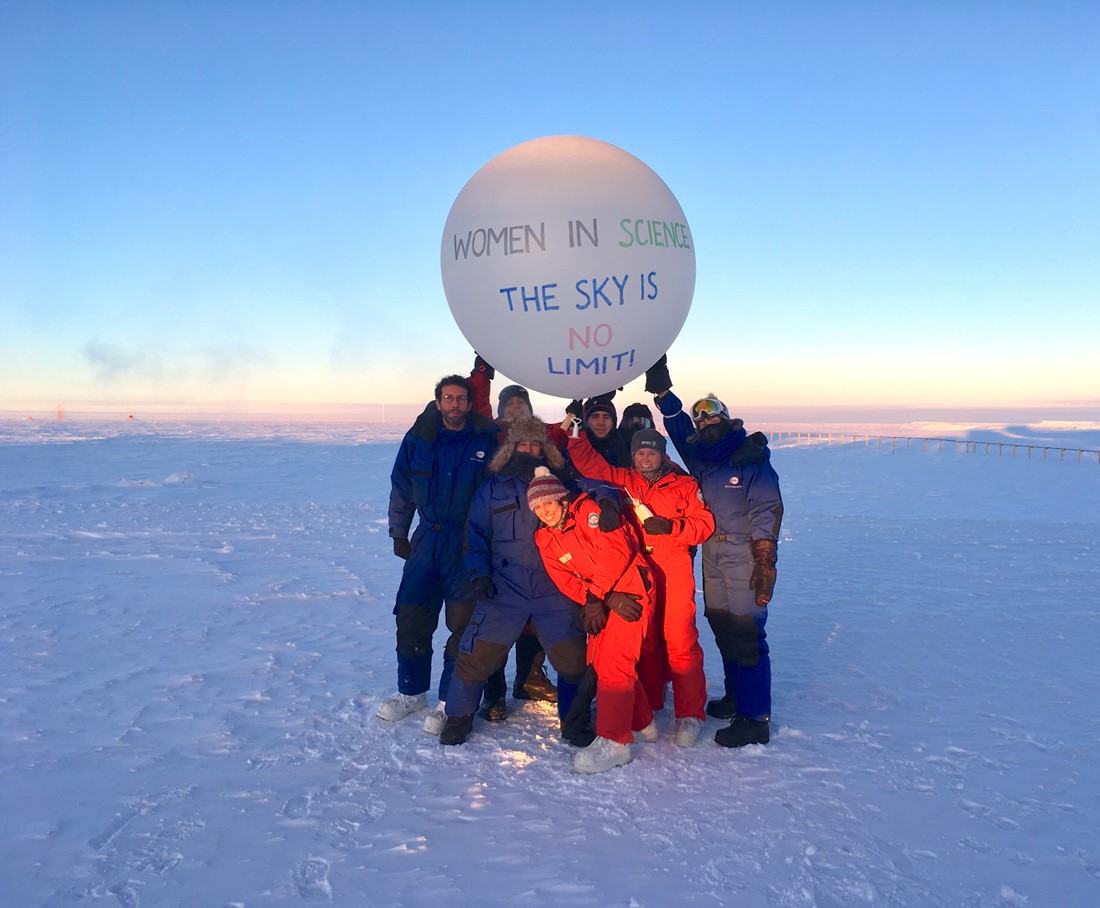 Please tell us more about these exciting experiences!
I strive for interesting experiences that also contribute to science. While I was in Antartica, I started thinking that the applied sciences could really help the research there. For example, graphene could be used to develop self-heating clothing with in-built health management sensors, and the loop heat pipe technology could be adapted to de-ice scientific instruments.
Another really big application area is energy. Concordia Station and the vehicles used to service it like snowmobiles (Skidoos) use diesel fuel, which is not ideal for the environment or for research in atmospheric chemistry and physics, as researchers in Antarctica need to be extremely careful not to contaminate and pollute. Electric means of transport with suitable batteries or hydrogen-powered vehicles could be the solution to this problem. Hydrogen would be ideal because if it is produced cleanly the only emission is water, and it does not have the same problems at low temperatures that batteries tend to encounter.
I have been talking about it ever since, even during Graphene Week 2019, when I Skyped into the ESA session from Concordia Station. I wish to bring together these different lines of research: hydrogen technology from my PhD, graphene applications and science in Antarctica. I would like to set up a laboratory for the use of nanomaterials in extreme environments, such as Antarctica and space. The conditions of Antarctica and space are not too different in some respects, after all.
Why do you feel that diversity is important for the Graphene Flagship's progress?
I think that without diversity, there is no progress: you can get stuck in a certain way of thinking, while you need different points of view to trigger new ideas. It is important to work with people from different backgrounds and all walks of life, and this is part of the reason why I strive to have such a variety of experiences.
In my own way, I also try to contribute to further this cause. For example, I have been involved in initiatives run by the Australian Embassy in Italy for International Women's Day in 2020 and 2021, and I celebrated it in Antarctica by launching a weather balloon that said "Women in Science: the sky is no limit!"  
Who is your role model?
I cannot say that I have had one particular role model, but I am inspired by the strong people around me, starting from my parents and my sisters. Also the teachers I had at school and University contributed to define who I am. I always try to find people who are doing great things and try to learn as much as I can from each of them. My favourite example is the Italian astronaut Samantha Cristoforetti… who knows, maybe one day I will work with her!