Article
---
By: Graphene Flagship
Graphene Flagship
Publishing date: 25 July 2023
By: Graphene Flagship
Graphene Flagship
Publishing date: 25 July 2023
The Graphene Flagship Celebrates 10
This year marks the ten-year anniversary of the Graphene Flagship, and we are taking this opportunity to celebrate a decade of 2D materials research and innovation. We have helped to shepherd graphene from the lab and into commercial applications.
Over the past ten years, the Graphene Flagship has grown from a primarily academic project focused on a single, remarkable material to an increasingly industry-forward project focused on market applications of a whole family of two-dimensional and layered materials. In September 2022 we launched a year-long celebration of the project's results to highlight the incredible journey the Graphene Flagship has undertaken.
The Graphene Flagship was funded to ensure that Europe would maintain its lead in graphene research and innovation following the scientific breakthrough of graphene's isolation at the University of Manchester. The European Commission launched the unprecedented long-term and large-scale Flagship research initiatives to tackle major challenges in science and technology, bringing positive changes that benefit society and the economy and advance European leadership in technology and industry. A decade on, we are proud to say that the Graphene Flagship has delivered on its promise. 
From atoms to tonnes 
"It's amazing what we achieved in such a limited period of time with respect to what is required by technologies to develop from the lab to the factory floor," says Graphene Flagship Science and Technology Officer Andrea C. Ferrari. "Over the past ten years, we have gone from graphene flakes of the size of one micron to 300 mm wafer-scale production." 
Over the years we have consciously steered the Graphene Flagship towards more applied topics, and focus has moved from measuring publications to other indicators such as applied and granted patents, new companies created and products launched to the market. The launch of our 11 industry-led spearhead projects which pursue specific commercially motivated applications in areas like autonomous driving, clean water and air, more efficient batteries and new systems for aviation in 2020 was a clear milestone on our commercialisation journey. We have seen a progression toward more applied research and the development of high technology readiness level (TRL) demonstrators that are close to market. In fact, high TRL development now makes up 30 percent of the Graphene Flagship's budget, whereas these activities were non-existent before 2018. 
Graphene Flagship partners have also created over a dozen new companies in areas such as photonics, medical technologies and materials production, which have jointly received tens of millions of euros of private funding. They continue to grow and evolve under commercial terms, which is yet another indicator that the Graphene Flagship is delivering what it promised — bringing graphene products out of the lab and closer to the public.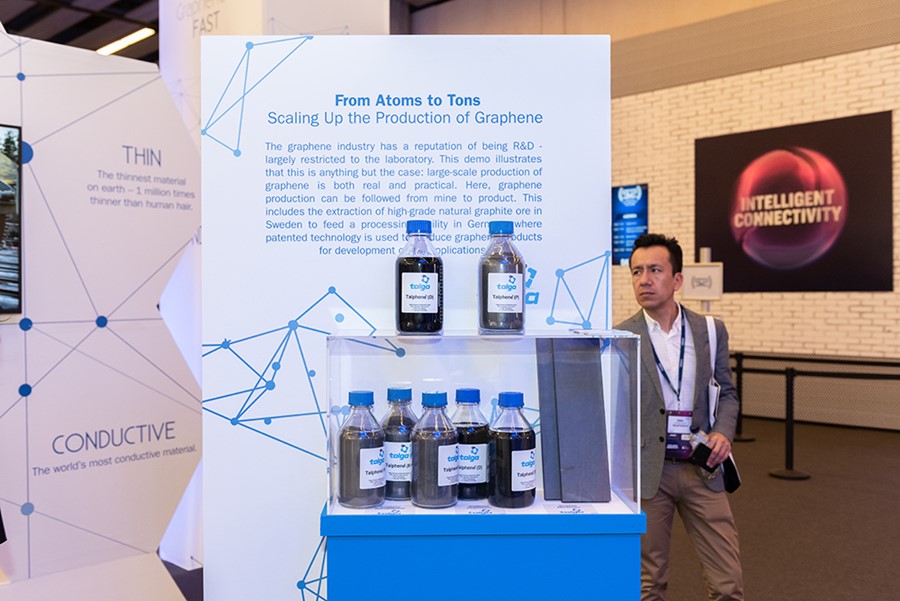 Celebrating ten-fold impact
While the success stories of the Graphene Flagship spin-off companies, SMEs, graphene producers and large industrial partners provide anecdotal evidence of the project's accomplishments (see page 56), concrete numbers also show that the Graphene Flagship has outperformed the benchmarks set by the average European-funded research project by a factor of ten. The Graphene Flagship can boast 346 patent applications with 83 patents granted as of September 2022, a volume 13 times higher per 1K€ invested than shorter research projects. Similarly, our more than 4,900 publications and 212,000 citations in academic journals are ten times higher than for a typical project.
One of the key goals for the Graphene Flagship was to create a commercial ecosystem for graphene and related materials, helping to grow the European economy through the creation of new industries and jobs. To properly assess the Graphene Flagship's economic impact, we commissioned a report from WifOR an independent economic research institute. By analysing our project outputs, growth in key European industries and the distribution of the original investment by the European Commission, WifOR was able to estimate the project's impact. Based on a total investment of €1.4 billion in European projects for graphene and related materials, the Graphene Flagship contributed a gross value added of €5.8 billion and helped to create 81,622 jobs in Europe. The Graphene Flagship has yielded an impact 14.5 times higher than the European Commission's direct investment in the project of €401 million over the past ten years. The full economic report can be read here.
A promise fulfilled
"The formation of the business development function, creation of spearheads and active collaboration between work packages and external stakeholders have all had a profound effect on the results and success of the project," says Graphene Flagship Head of Innovation Kari Hjelt. Given the 106 products created, 17 spin-off companies launched and the increase of industrial partners in the project from 30% in 2013 to 47% in 2022, our commercialisation efforts are on the right track.
"We have fulfilled the vision for our initial ten years," Ferrari adds. "In particular we have firmly demonstrated that graphene is not a curiosity for the lab but is a true enabler for new technologies."
"As I reflect on the past ten years, I am very proud of the fact that we have created a community that brings academic and industrial partners together to create new technologies, or to substantially change existing technologies in fields ranging from composite materials to energy, electronics and medical technologies," says Graphene Flagship Director Jari Kinaret. "If we look back at where we were ten years ago, the evolution has been phenomenal."
Sailing toward new horizons
In October 2023, the Core 3 project will end, and the Graphene Flagship will kick off a new initiative under Horizon Europe, the European Commission's financial instrument from 2021-2027. The 2D Experimental Pilot Line project will continue to be funded through Horizon 2020 for another year. With this transition, the structure of the Graphene Flagship initiative will also change. Rather than a single project, the initiative will be organised into separately funded Research and Innovation Actions and Innovation Actions (RIA/IAs) connected by a Coordination and Support Action (CSA).
Several key partners in the Graphene Flagship's Administrative and Services Division are now in the planning stages of what will become the Horizon Europe CSA project, ensuring continuity as it evolves and transforms. The success of this CSA is a testament to the success of the current project and its management. To date six RIAs and one IA have been selected across composites, photonics, energy and biomedical areas. Further calls will close later in 2023 and 2024, but the results of this preliminary call show that there has been enormous growth in the 2D materials (2DM) community in Europe over the last ten years. The calls had many more applicants than anticipated, highlighting the success of the Graphene Flagship in strengthening Europe's position in 2DM research and innovation and creating a strong value chain for GRM commercialisation. As the Graphene Flagship continues its voyage, it will evolve and adapt to a widening European 2DM landscape. The important work on graphene that was launched a decade ago, however, will continue to move forward creating new technologies, industries and products in its wake.