Article
---
By: Graphene Flagship
Graphene Flagship
Publishing date: 20 February 2017
By: Graphene Flagship
Graphene Flagship
Publishing date: 20 February 2017
Experience Graphene Mobile Innovation at the GSMA Mobile World Congress
Graphene is back at Mobile World Congress (MWC) 2017 with the Graphene Experience Zone. Designed to showcase graphene mobile innovation in an interactive way, the Graphene Experience Zone will bring graphene to life. A wide range of demonstrations and operational prototypes will allow visitors to learn more about the potential of graphene and related materials in mobile applications ranging from smart composites to wearable sensors. Organised by the Graphene Flagship and curated by ICFO, with support from the GSMA, the Graphene Experience Zone will help to highlight the potential of graphene to the mobile community.
Grouping graphene innovations into five different areas, the Graphene Experience Zone allows visitors to head directly to their area of interest: IoT and Sensors; Wearables and Health; Energy; Datacoms; and Composites. Meanwhile the BAC Mono supercar featuring graphene-enhanced bodywork, on show at the heart of the Graphene Experience Zone, will inspire visitors across all areas.
"The Graphene Experience Zone will showcase future graphene technologies at work, presenting a wide range of demonstrators and a spectacular design of the interactive zone," comments ICREA Professor Frank Koppens from ICFO - The Institute of Photonic Sciences in Barcelona, who is Scientific Chair of the Graphene Experience Zone.
At the Graphene Experience Zone, each area will be brought to life by leading industry and academic co-exhibitors who will be on hand to present 20 different demonstrators and products, as well as to answer any questions regarding the potential of graphene and related materials in mobile innovation.
A visit to the IoT and Sensors area can involve testing a new, graphene based ultrasensitive infra-red sensor which can 'see' through smoke and fog, paving the way for a new braking system for self driving cars. Also on display there is a smartphone enabled bio sensing device. 3D printed insoles with embedded graphene sensors which can be used to monitor an athlete's performance are also showcased together with examples of flexible Near Field Communications (NFC), flexible transparent conductive films and transistors, conductive inks and printed devices such as touch or strain sensors will be presented too.
With ever-increasing innovation, wearables and health is an expanding area in the mobile world.  Here the Graphene Experience Zone will show a complete graphene wellness sensor that can sense heart rate and communicate in real time. Visitors will also be able to delve deep inside the body with a potential biological application, where a fascinating example of how graphene can interface with the brain is shown by means of a retinal implant demonstrator. Additionally, the display of a robotic arm controlled by a bracelet with graphene sensors will also be a highlight of this area, something not to be missed.
In the Energy section of the Graphene Experience Zone, an instantly hot, flexible graphene heater gives a glimpse into a world where extremely cold environments never need be an issue – an area of special importance in the aviation industry. On the other hand, visitors will be able to learn about a cutting-edge graphene based super capacitor with high charge rates.
Datacoms is a huge growth industry where graphene can play an important part. In the Datacoms sections of the Graphene Experience Zone, there will be a graphene-based modulator on show which can transmit over a very long distance, as well as a flexible graphene Wi-Fi receiver which has the potential to enable superfast data transmissions.
No visit to the Graphene Experience Zone would be complete without investigating the Composites area, at the heart of which is a supercar featuring graphene-enhanced bodywork, developed by Haydale. The BAC Mono car has graphene composite rear wheel arches, which reduces its weight and provides a notable performance benefit to the driver. Also in the Composites area is the graphene-coated motorcycle helmet, one of the Graphene Flagship's success stories in translating graphene's properties to marketable technologies. A graphene-coated drone is also on show in the Composites area, providing an excellent example of how the fundamental properties of graphene can not only enhance current composite properties but also enable additional ones. The Composites area is also the place to find out more about current graphene production.
Professor Andrea Ferrari, the Graphene Flagship Science and Technology Officer and Chair of its Management Panel said, "At Mobile World Congress 2017, The Graphene Flagship will highlight significant progress towards the realisation of prototypes, with some products already on the market – we are on the right path to bring graphene and related materials from the lab to the factory floor."
For inspiration of future innovation in the mobile world the Graphene Experience Zone brings unique technologies that should definitely be seen during Mobile World Congress.

List of Graphene Flagship partners exhibiting their technology:
AMO
BAC-Mono
Catalan Institute of Nanoscience and Nanotechnology (ICN2)
Centro Nacional de Microelectrónica
Consorzio Nazionale Interuniversitario per le telecomunicazioni (CNIT)
Consiglio Nazionale delle Ricerche (CNR)
Delft University of Technology (TU-Deflt)
Emberion
Ericsson
FGV Cambridge Nanosystems
FlexEnable
G-Next
Graphenea
Haydale
ICFO - Institute of Photonic Sciences
Istituto Italiano di Tecnologia (IIT)
IMEC
Institut de la Vision
Momo design
Nokia
Novalia
Raspibo
RWTH Aachen University
Thales
The University of Cambridge – Cambridge Graphene Centre (UCAM CGC)
The University of Manchester - National Graphene Institute (UoM NGI)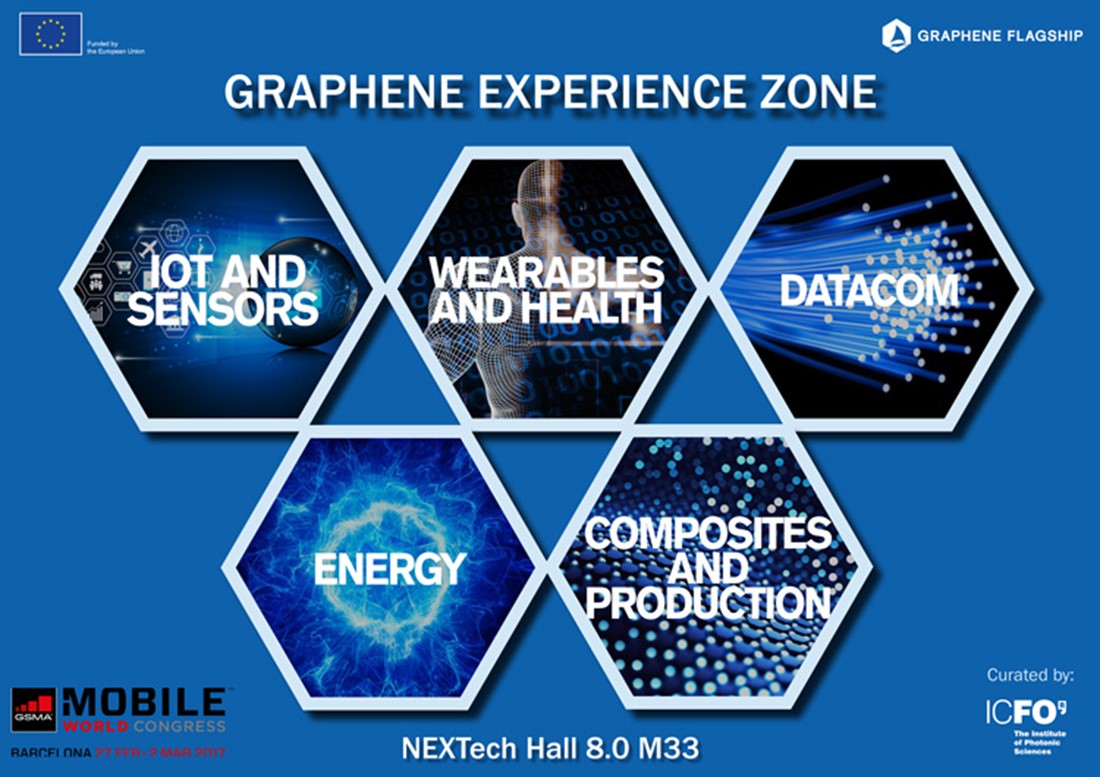 Extra Information
Graphene and the Mobile Industry
Graphene is one of the most interesting and versatile materials known to date. The world's first two dimensional material, this single layer of carbon atoms arranged in a hexagonal lattice has a set of unique and outstanding properties. As well as being the thinnest, strongest and lightest material, graphene is flexible, impermeable to molecules and extremely electrically and thermally conductive. As the world strives to maintain its pace of innovation, graphene has much to offer. Graphene is helping to facilitate the next generation of technology: from interconnects for data communication to screens and casings. For example, the strong and flexible nature of graphene makes flexible displays and bendable batteries possible. Its excellent sensing ability can be used in the next generation of wearable electronics and to develop building blocks for the internet of things. Graphene's unique combination of properties coupled with its ease of incorporation into composite materials mean that it can enhance the composite world. Graphene is also paving the way for novel diagnosis and treatments such as in the realm of drug delivery and biosensors. Graphene-based technologies are proving integral to the new generation of communications, such as 5G, enabling high performance optical communication systems through ultra-fast and compact optoelectronic devices.

Graphene Connect: From Datacom to IoT, Enabled by Graphene
To capitalise on this gathering of the global mobile community, on 2 March, the Graphene Flagship is also organising a graphene-focused workshop. This workshop, entitled 'Graphene Connect: From Datacom to IoT, Enabled by Graphene', will bring together academic and industry representatives interested in all things mobile with a unique networking opportunity as well as a series of talks by leaders in the field of graphene in mobile devices.
Speaking of Graphene Connect is Dr Kari Hjelt, Head of Innovation for the Graphene Flagship: "Mobile World Congress attendees should take advantage of the opportunity to participate in Graphene Connect because the future of mobile technology is happening now. And the future is affected by graphene in many areas; graphene will be part of building new kinds of faster electronics and faster Datacom's, but also in other areas like new types of sensors and flexible electronics, which are not possible with existing technologies."

YoMo: The Youth Mobile Festival
The Youth Mobile Festival (YoMo) is a new, global GSMA program designed to inspire young people to pursue education and careers in science, technology, engineering, art/design, and math (STEAM) disciplines. Working with Mobile World Capital's mSchools program, YoMo Barcelona will host up to 16,000 young people (aged 10-16 years) from across Catalonia and Spain, allowing them to experience science and technology through over 70 interactive exhibits, workshops and theatre shows. One of these exhibits has been developed by ICFO, IIT, Novalia and University of Cambridge, with the support of the European Commission and the GSMA.  This activity will encourage its participants to create their own 'Graphopolis' where they will explore how graphene could improve their city in an interactive and appealing way.
High resolution images can be found in the Graphene Flagship image library at: https://www.flickr.com/photos/151519747@N06/