Article
---
By: Sophia Lloyd
Graphene Flagship
Publishing date: 08 March 2018
By: Sophia Lloyd
Graphene Flagship
Publishing date: 08 March 2018
Graphene takes centre stage at Mobile World Congress
For the third year running, Graphene Flagship researchers made an impact with a strong show of graphene technologies at Mobile World Congress, held in Barcelona between 26 February to 1 March 2018.
Mobile World Congress is the world's biggest exhibition focused on high-tech and mobile applications. With over 107 000 attendees from across the technology ecosystem and including a significant proportion of senior-level industry representatives, the 2018 Mobile World Congress was the ideal place for the Graphene Flagship to demonstrate progress in graphene.
"Here you could see the progress from year to year. We are progressing both on the technology readiness levels and also moving from low-tech to high-tech applications. I would say that this year was probably even larger than expected in both terms," said Nobel laureate Konstantin Noveselov (University of Manchester).
The Graphene Flagship presented a wide selection of cutting-edge graphene technologies ranging from data communication, energy, Internet of Things, biomedical and wearable technology and sensor applications. The Graphene Pavilion was organised by the Graphene Flagship and curated by ICFO, with support from the European Commission and the GSMA, with 27 exhibiting partners from across the Flagship.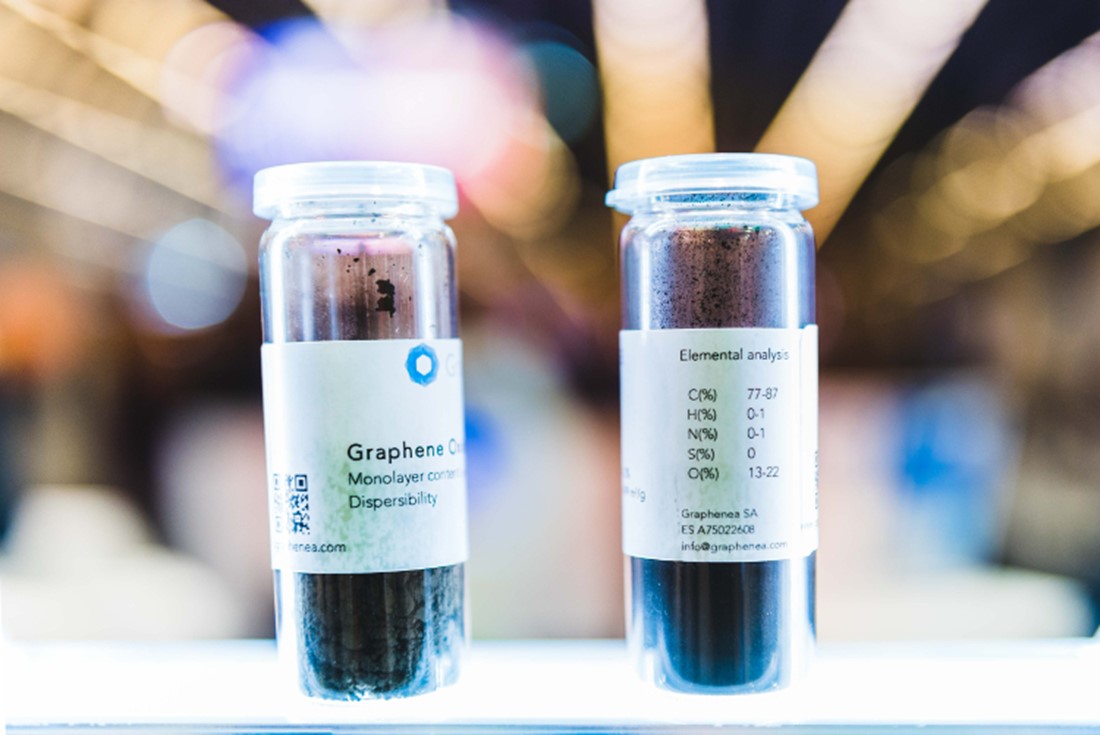 The annual Mobile World Congress is an excellent opportunity for Flagship researchers to showcase their work to a broad audience focused on technology and innovation. "I think the value that we gain from the Mobile World Congress is something extra that we do not receive from scientific conferences," said Marco Romagnoli (CNIT), Leader of the Graphene Flagship's Wafer-Scale System Integration Work Package.
This value is crystallising into real results, as evident this year through the increased support from several industry partners and associate members of the Flagship. As well as a fully-integrated optical link on display at the Graphene Pavilion, a fully packaged, graphene-based modulator prototype was also presented to high-level telecommunications business leaders within the Ericsson Pavilion. This further demonstrates the value of graphene photonics for industry for next generation and 5G networks.
"The transceiver and modulator prototypes presented this year by the Graphene Flagship are already competitive with the state of the art of conventional technology, but with greater potential for power reduction and broader wavelength operation range," said Andrea Ferrari, Science and Technology Officer of the Graphene Flagship and chair of its Management Panel. "More generally the demonstrators we presented at the Graphene Pavillion show the steady pace of progress across the technology and innovation roadmap for graphene and related materials."
The modulator prototype was developed through a cross-Flagship collaboration between AMO, CNIT, Ericsson, IMEC and Nokia. "The collaboration with Ericsson has been ongoing for several years. To collaborate has meaning – to transfer basic research into innovation and applications. This is the most satisfactory experience that a scientist can have, in my opinion," added Romagnoli.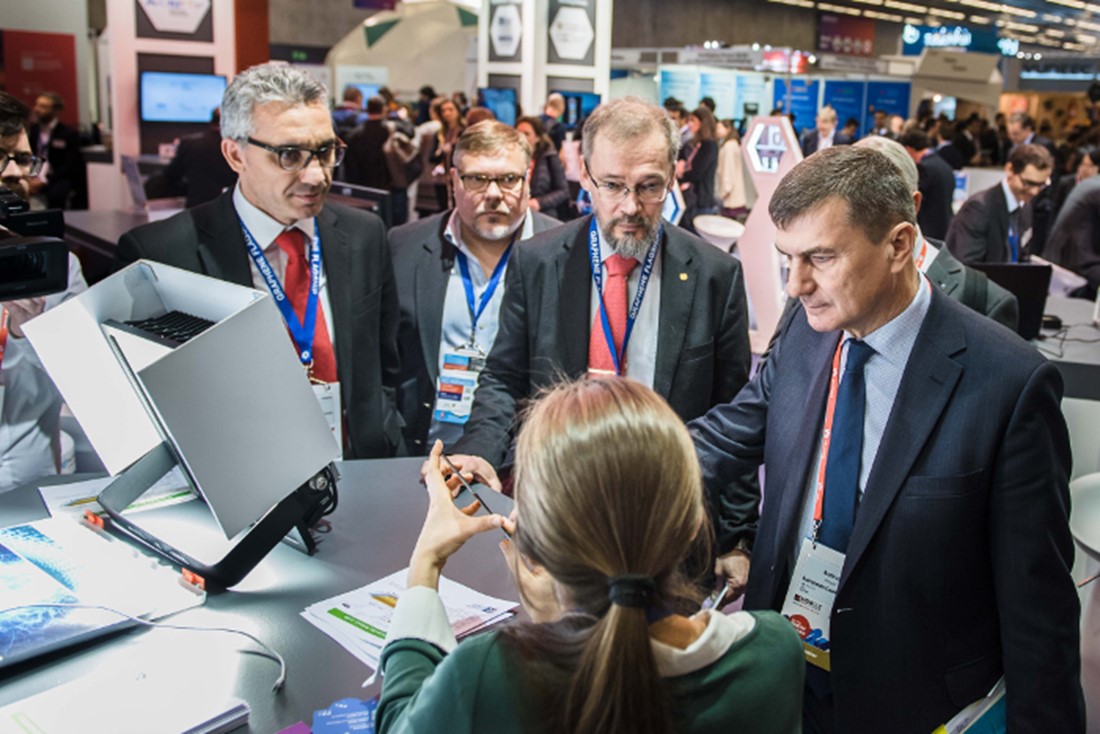 The transfer of scientific progress towards tangible applications and business opportunities was also evident within the Graphene Pavilion. "We had a lot of interest, a lot of companies visiting us as last year, but this year it was more like people already knew something about graphene in some instances, so there were more deep discussions," said Kari Hjelt (Chalmers Industrieteknik), Head of Innovation for the Graphene Flagship. The Graphene Pavilion was an excellent place for our exhibitors to demonstrate their technologies directly to relevant industry leaders and make business contacts for future developments.
Driving graphene technology forward to innovations in real-world applications is the key focus of Mobile World Congress for the Graphene Flagship. "This year, we moved a lot more towards an innovation event," said Frank Koppens (ICFO), chair of the Mobile World Congress programme committee. "We had several meetings with high level board members of companies, and many visits from technology leaders in the field. In particular, we saw more visitors that already knew us and came with a specific business objective."
On Wednesday afternoon, the Flagship Innovation Work Package organised an event – Meeting Graphene – to bring together industry experts for networking and in-depth discussion of the possibilities offered by graphene and related materials for mobile technologies.  "The Meeting Graphene innovation event was a great success. We had more people than could fit in the room, and there was a high interest in our discussion. I am very optimistic that we are now stepping up with concrete actions for collaborative efforts with companies," said Hjelt.
Highlights of the Graphene Pavilion were handpicked for several high-profile visitors, including EU Commission Vice President Andrus Ansip, GSMA CEO John Hoffman and members of the Catalan government. The Graphene Pavilion was also featured in a series of tours led by the GSMA, focusing on Emerging Technologies and technologies for Sustainable Smart Cities. The GSMA Women4Tech tours that visited were able to hear about graphene applications directly from women involved in developing the technologies.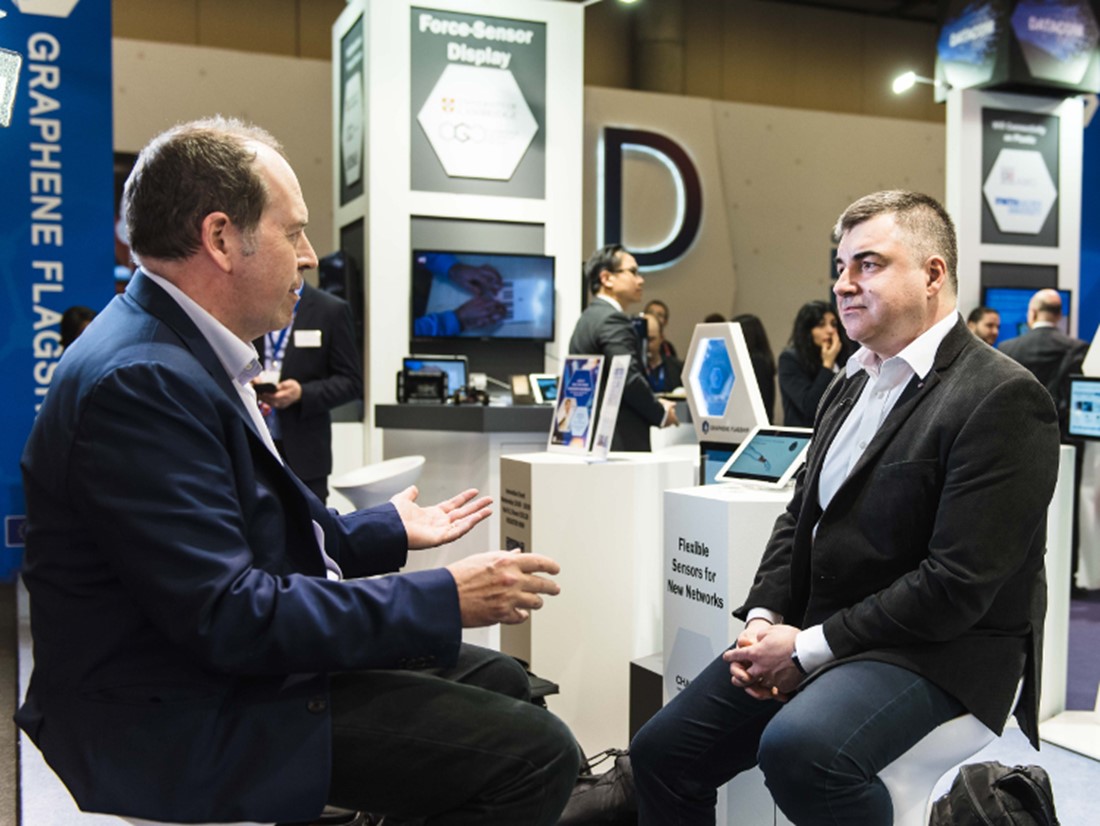 This year, there was increased interest in graphene technologies from the media, with several visits form international press, including the BBC, Discovery Channel and Reuters. The strong media impact of the Graphene Pavilion brought the progress in graphene technology to a global audience.
Graphene was also a popular topic at the Youth Mobile Festival (YoMo) held alongside Mobile World Congress. The lively Graphene Corner featured several interactive exhibits on graphene, designed for students aged 8-18 years, with information packs available to teachers and educators. The Graphene Corner was organised by ICFO with support from Graphene-XT, the Graphene Flagship, the European Commission and the GSMA.
The effort and hard work from the exhibitors in developing their excellent graphene demonstrators and prototypes was highly successful in bringing graphene to life to engage the Mobile World Congress community. "We can see that these kinds of initiatives are working because contacts established last year translated this year into real applications," said Vincenzo Palermo (Chalmers University of Technology), Vice Director of the Graphene Flagship. "One nice feature of the Graphene Pavilion was the involvement of many partners that are not directly in the Core Flagship, showing that the Flagship is not just one single project but a whole structure that is attracting the best researchers and industries in Europe."
Photo credits: Alexandra Csuport/Graphene Flagship