Article
---
By: Letizia Diamante
Graphene Flagship
Publishing date: 08 July 2020
By: Letizia Diamante
Graphene Flagship
Publishing date: 08 July 2020
Graphene takes off for sustainable aviation
Graphene Flagship Aeronautics Champion reveals how graphene and related materials have the potential to make aviation cleaner and greener
Elmar Bonaccurso is an expert in the science of innovative materials and new aircraft technologies. He works as a Senior Scientist at Graphene Flagship partner Airbus in Taufkirchen, Germany. Airbus is leading a Graphene Flagship Spearhead project focused on the prevention and elimination of ice on the wings of aircrafts (GICE).
The Graphene Flagship has appointed Bonaccurso as their Aeronautics Champion, to act as a spokesperson and interface for their efforts to develop next-generation technologies using graphene and related materials for aviation.
He talks about his background, his new position as the Graphene Flagship Aeronautics Champion, and explains why graphene and related materials have the potential to make aviation cleaner and greener.
What made you first become interested in aeronautics?
I grew up with a strong interest in aeronautics and aerospace, with a conviction that they need the most advanced materials possible to progress. After gaining a broad background in engineering, chemistry, physics and materials science, I started working for one of the biggest aeronautics players worldwide: Airbus. Now, I am doing exactly what I love the most: investigating advanced materials for aeronautical applications. I work in the Central Research and Technology department, where innovations are born, and new projects take their very first steps.
What kind of innovations are you currently working on?
Broadly speaking, my colleagues and I are working to make aviation greener and more sustainable. We have no blueprint readily available, which makes this multidisciplinary task extremely challenging, but also exceptionally fascinating. 
We are developing new materials with a variety of properties – always with sustainability in mind. For example, we are looking into lighter components that keep high mechanical resistance. We investigate materials derived from renewable sources that are fully recyclable, and we are also trying to identify multifunctional materials showing a combination of attractive properties.
Graphene and related materials will certainly be able to meet a number of these requirements – this is another aspect that makes my work so exciting!
Have you worked with graphene before, and were you surprised by its properties?
Although I had never worked with graphene before, I closely followed all the developments that occurred during the last decade. Personally, I am really interested to see if we can use graphene to improve the materials and technologies in aeronautics. Now, thanks to the Graphene Flagship Spearhead GICE, we can investigate whether the properties of graphene and related materials can offer an advantage – and whether they could become a game-changer for some applications.
Can you tell me a bit about your role as the Graphene Flagship Aeronautics Champion?
My goal is to raise awareness in the graphene community of the needs and requirements for aeronautical innovation. Graphene is one of the most promising materials we are currently working with – and since I have quite a good overview of material research in the aeronautics field, I hope to provide new input and drive innovation. This will be possible both in cooperation with my network at Airbus, and with other aeronautical companies worldwide.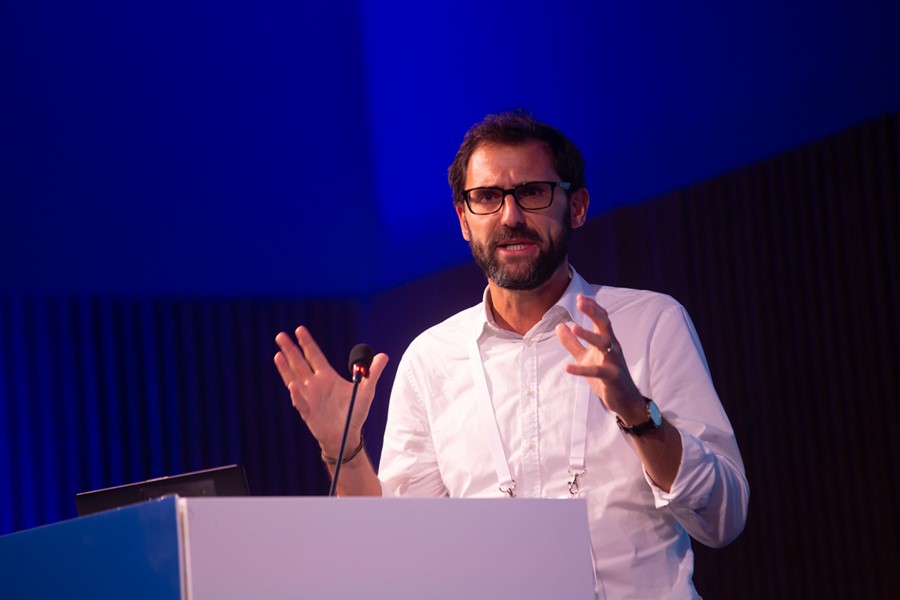 Which properties of graphene could help us to build better airplanes?
Graphene can play a role in several parts of the aircraft. It can make composite materials simultaneously strong, tough and lightweight. Reducing the weight of the aircraft brings considerable advantages: each kilogram spared saves approximately two tons of fuel, avoiding six tons of CO2 emission, over the lifetime of an aircraft.
Graphene can also protect metals, composites or ceramic materials from environmental hazards, including sand, rainfall and strong UV radiation. Its high thermal and electrical conductivities can be used to add new functionalities to materials and increase their performance. It can be used for electrical motors, on-board systems, electrical sensors, thermal actuators and many more applications.
We have recently started looking into using graphene for some novel and sophisticated technologies, applicable to our field – however it is too early to say exactly which solutions graphene will bring to the aeronautics industry.
Which technology do you want to develop with the GICE project?
Airbus has been Graphene Flagship partner from the very beginning, and this close collaboration further increased with the launch of the GICE Spearhead project. The project is coordinated by Airbus, but also involves other leading companies and universities in Europe. Together, we will incorporate graphene and related materials into novel ice-protection systems for planes and helicopters.
The accumulation of ice and snow on the wings and other aircraft parts mid-flight is dangerous, as it can disrupt the airflow and hinder control of the vehicle. We want to test whether graphene is a flexible solution to replace the current electrical heating elements that prevent ice formation. Several of graphene's properties play a role here, in terms weight-saving, scalability and flexible manufacturing processes.
We have seen promising results so far. Now, we need to develop a good understanding of the systems and the requirements that must be satisfied for new products to be viable for Airbus's helicopters and aircraft.