Catalysing industrial innovation
Our goal in the Innovation Work Package is to create stronger links between Graphene Flagship researchers and external market opportunities. We try to maximise the project's innovation potential through the creation of new ventures and spin-offs, the commercialisation of products and services through partnerships, as well as providing support in licensing intellectual property rights. We have a strong focus on business development, knowledge management and knowledge transfer.
This year's progress
Over the past year, our Business Developers have continued to make strong contributions to the creation of start-ups within the Graphene Flagship. Notably, Qurv Technologies spun off from Graphene Flagship partner ICFO, Spain, and became a Graphene Flagship partner in 2021. Qurv was founded to develop graphene-enabled wide-spectrum image sensor technologies for next-generation computer vision applications, and now leads the Spearhead Project AUTOVISION. The business developers continue to support other recently formed spin-off companies like Grapheal and INBRAIN Neuroelectronics, both medtech companies that have received significant investments from private investors. Business Developers also attend industry events and organize workshops to raise visibility for graphene applications. These activities are also instrumental to lead generation, which has been very high this year.
The Innovation Work Package played a key role in the evaluation and selection of the current Spearhead Projects, which have significantly boosted the Graphene Flagship's collaboration with industry in the current funding phase.
We've also added new tasks related to the collection and validation of Graphene Flagship patent data. Among other things, we've evaluated the project's outputs in terms of patents and patent applications since its launch in 2013. This work has demonstrated the true impact that the Graphene Flagship in the European industrial landscape. Together, the developments seen over 2021 demonstrate the growing momentum in bringing graphene from laboratories to the factory floor and into the hands of consumers.
Our Work Package offers a whole host of video courses and resources covering a range of topics, including intellectual property, patenting, start-up creation, technology transfer, venture capital and more. The Innovation Education and Training Platform serves as a central training hub for Graphene Flagship researchers looking to bolster their professional careers in scientific innovation and academic entrepreneurship.
Collaboration
The Innovation Work Package relies on collaborations across the project. We collaborate regularly with the Dissemination Work Package to produce innovation events, contribute to the preparation
of tradeshows and exhibitions and much more. Moreover, our Business Developers interact regularly with their designated Work Packages and Spearhead Projects helping to identify commercialisation opportunities and market potential in emerging technologies. Throughout this funding phase, we have also worked with the Management Work Package to improve the reporting processes for different outputs, from patents and inventions to commercial products and prototypes. Together with the Industrialisation Work Package, we elaborate the Technology and Innovation Roadmap and plan the Innovation Forum at the Graphene Flagship's annual conference, Graphene Week.
Our Work Package has a strong impact shaping the Graphene Flagship's commercialisation strategy through its role within the Spearhead Projects, its support in spin-off creation and its work to connect academics with companies interested in exploiting their research results.
Upcoming challenges
Our main challenge is to maximise the impact of the Spearhead Projects and the new 2D Experimental Pilot Line. These projects represent the Graphene Flagship outputs with the highest technology readiness levels (TRL).
As this funding cycle ends, the new funding structure in Horizon Europe, with discrete and diverse projects, poses synergy challenges for the coordination of innovation efforts. We'll ensure a special care to our existing initiatives to maintain momentum and maximise market penetration of graphene-enabled products.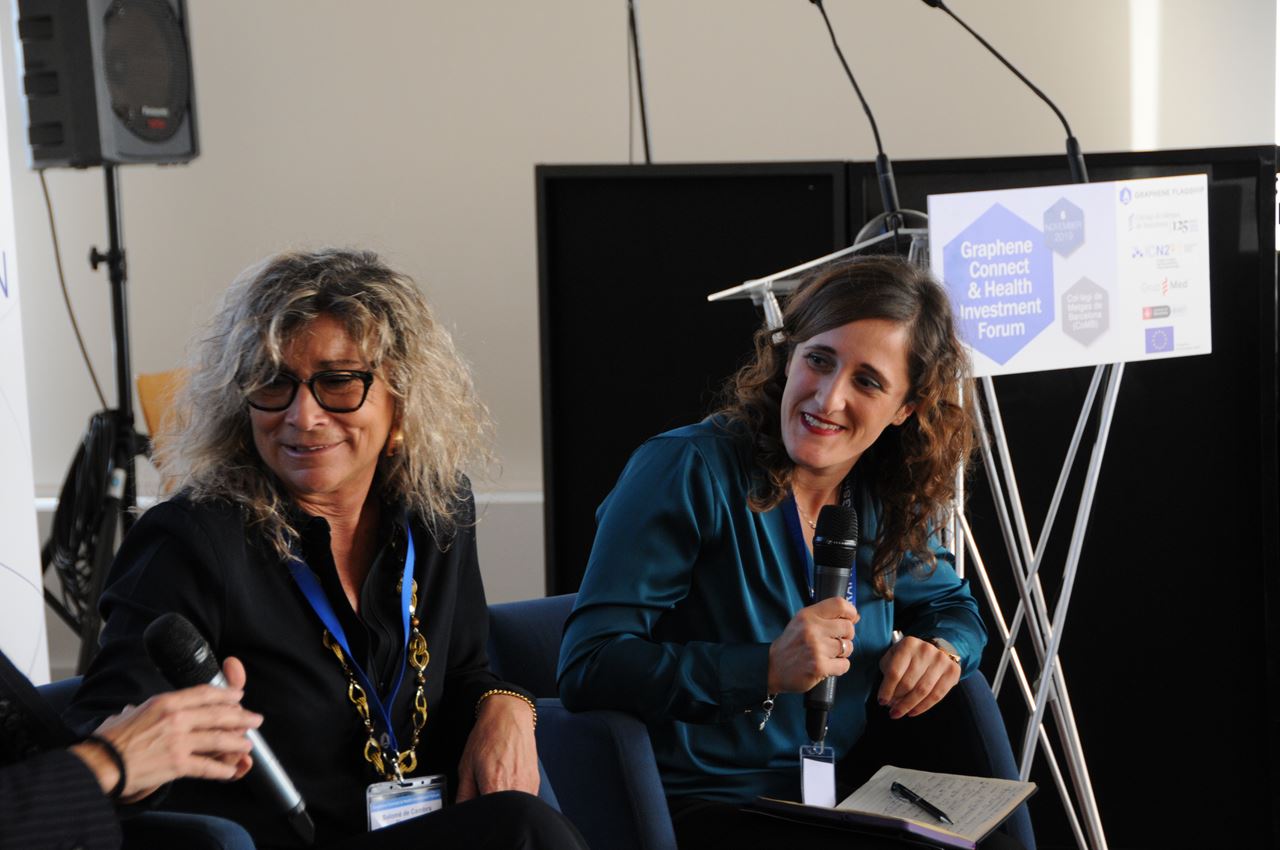 Innovation Team
The Innovation Work Package aim to strengthen the project's cooperation with industry stakeholders in order to increase the technology readiness levels of its outputs.
Innovation Team